---
It's that time of the year again, a treasured stretch for Team SEQ and all event professionals to compare and contrast their own recent productions—Award Show season! The Golden Globes kicked off Sunday night with a production that in some ways mirrored years past, and in other ways definitely did not.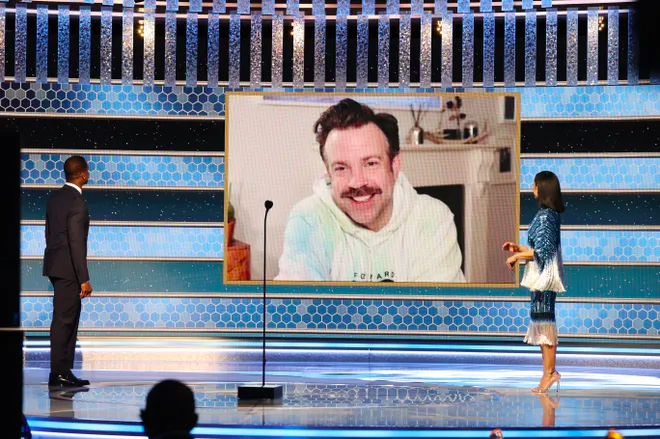 This year's Golden Globes were once again hosted by dynamic duo Tina Fey and Amy Poehler, past co-hosts of the annual awards show from 2013 to 2015. The two were literally and figuratively "socially distanced": Fey emceed at New York's Rainbow Room for a small socially distanced and masked crowd of first responders, while Poehler did the same across the country at LA's Beverly Hilton. The hosts may have been on a split-screen, but they did their best to rise to the especially unique occasion with timely jokes and wit to match. Like when "Fey mimed reaching out to stroke Poehler's hair as someone else's arm finished the job at the Hilton." A pretty hilarious, and adorable gal-pal moment if you ask us.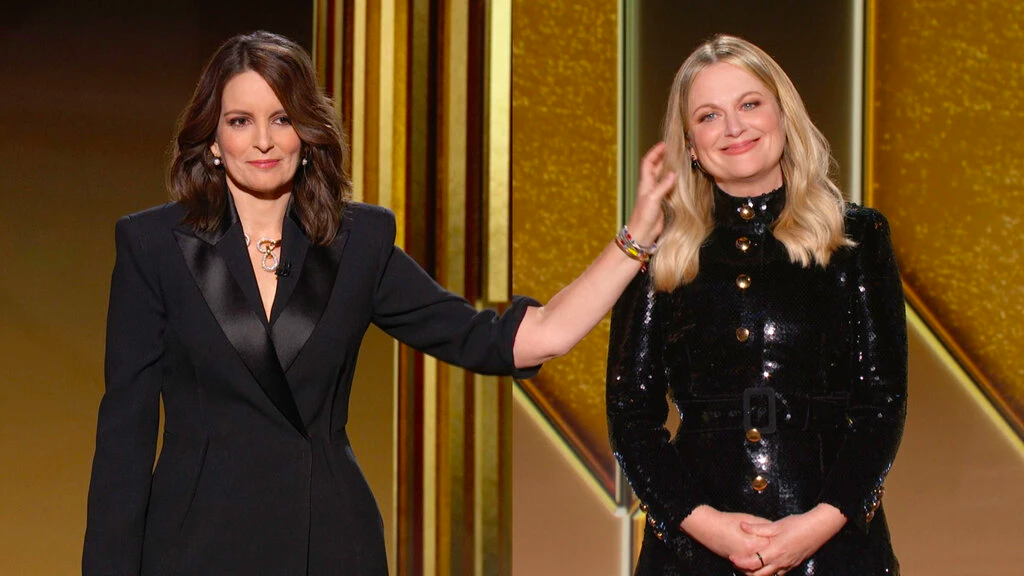 There were a number of other moments which called out the unique opportunities of virtual events throughout the Globes. Jason Sudeikis, who won Best Actor in a TV Comedy or Musical, accepted his award while donning a tie-dye hoodie. Plenty of stars opted to go glam for the special occasion, but many others also chose to go casual this year. As we've written about previously, there is nothing more intimate and humanizing than seeing famous, talented speakers and celebrities from the comfort of their own homes. I mean, how real was it that Jodie Foster and her wife appeared on screen in their pajamas with their dog perched on the couch?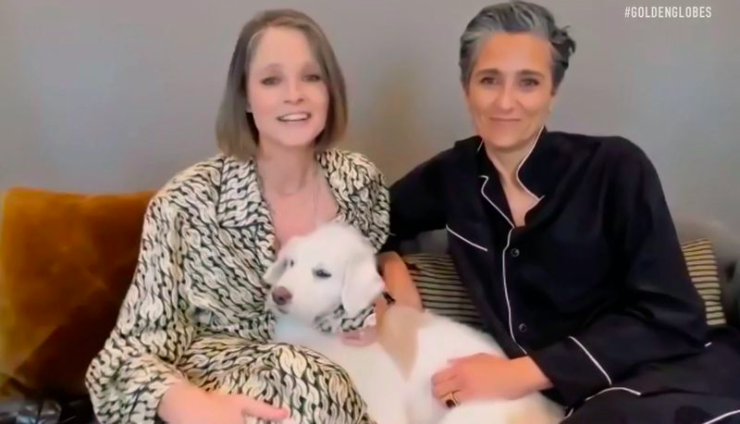 With most of our favorite stars studding the couch instead of the red carpet this year, many had their families sitting directly beside them during their big wins for the first time. A favorite moment of ours? When Minari director Lee Isaac Chung's daughter jumped in his lap and hugged him throughout his acceptance speech for Best Motion Picture in a Foreign Language.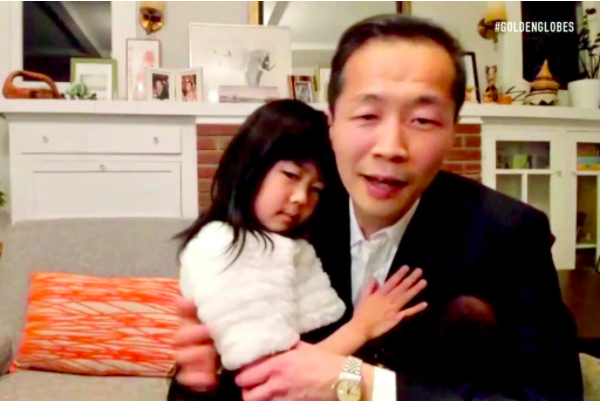 Like many virtual events at any scale, the Golden Globes had some technical difficulties. "Daniel Kaluuya, the first winner of the evening for his role in Judas and the Black Messiah, was stuck on mute and nearly had his acceptance speech skipped entirely," Vulture explains. Although that glitch was obvious to anyone watching, our Technical Production team noticed some additional hiccups throughout the awards show.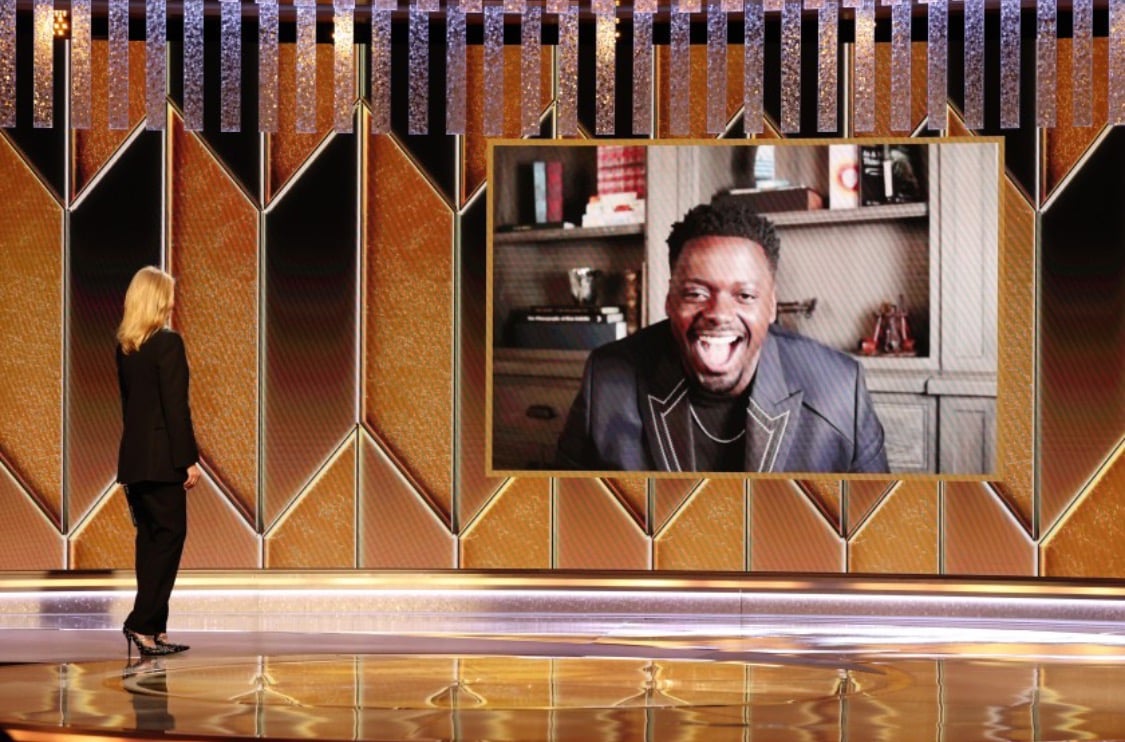 There were some notable differences between the live remote speakers and the pre-recorded segments: The quality difference was especially visible when showing the pre-recorded acceptance speeches side-by-side with live guests. Normal Lear's segment when accepting the Carol Burnett award highlighted this issue. His pre-recorded video quality was significantly better than the live, remote attendees.
Several of the remote speakers seemed to have a poor internet connection (which is why Sequence always suggests old-school ethernet for remote events!). Sadly, viewers were at the mercy of the speakers' own wifi. It may be expensive to send tech kits to so many nominees, but a little extra attention to quality would've gone a long way in elevating the experience for viewers and mitigating the obvious differences between pre-recorded and live talent. We touch on the importance of assessing speakers' at-home setups on our blog!
If event professionals know anything about virtual events, they know the importance of prepping speakers in advance. Live presenters at the Golden Globes didn't seem prepared at all on the contingency plans. Furthermore, the upcoming nominees didn't seem to realize that their cameras and audio would be live each time the program went to a commercial break. This definitely had an awkward, but a sometimes hilarious effect, like when a member of team Ozark shouted "Just act naturally!" during one of the pre-break teases.
Another behind-the-scenes issue brought to the forefront this year is the lack of representation for Black people within HFPA (Hollywood Foreign Press Association), the industry body which votes for the winners of the Golden Globes. The L.A. Times recently reported that the HFPA has no members who are Black, which many speculate is the main reason why entertainment created for more diverse audiences has frequently been snubbed in nominations and wins. This narrow view has wider implications on how dollars are spent within the TV and Film industry, leading to greater systemic inequities.
Overall, the virtual 78th Annual Golden Globe Awards ceremony could have made a few key upgrades to create a better viewing experience but was still engaging. This virtual event may have felt more like a Zoom conference than a glamorous awards show, but we loved the authenticity as well as getting an inside look into our favorite stars' homes and adorable families. We can't wait to see what the rest of the major awards shows are planning for this unique season. Stay tuned for more from Team SEQ!