---
Every morning on my way in to the office I get my coffee from the same place, a Starbucks on 42nd and Madison. I've been going there for a couple of years now and a few of their baristas have been there at least that long. As a long-term customer I get the usual perks: my coffee's waiting for me by the time I get to the front of the line, I'm greeted with a 'Hi, Adam', and most importantly they know not to engage me in dialogue of any kind because without coffee I am more useless than useless. Today though I got another perk, one that caught me totally off-guard.
As I was paying for my coffee one of the barista's handed me an envelope with my name on it. When I got to the office and opened it up, I found this inside: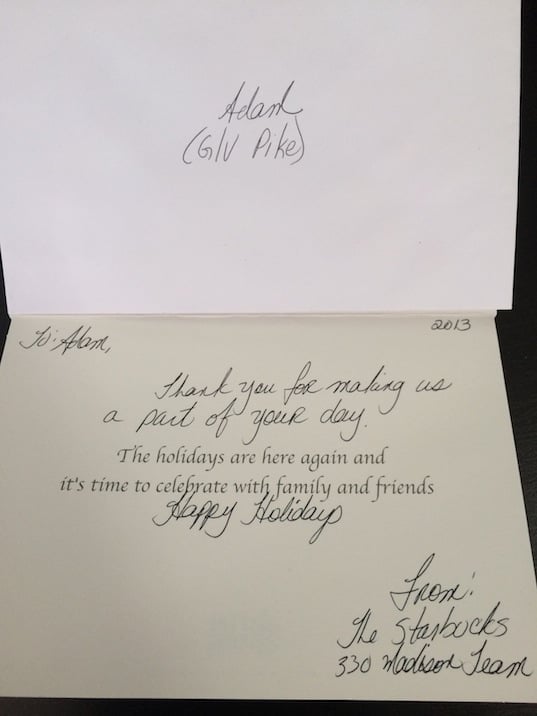 Let's face it, I have been drinking Starbucks coffee, Starbucks coffee from that particular shop, for a long time. I'm not sure what I'd have to find in my coffee to stop going there, but it would probably have to be alive. So they've got me, and I'm sure they know it. But the fact that they would still take the time and effort to recognize me personally like that, I was pretty wowed. And I know it's just a card, and I know it was probably a corporate initiative, but neither of those two factors diminish the effect for me. In a way, I'm more impressed that a global brand is thinking about their customers individually, and that they didn't feel the need to cheapen the sentiment with free coffee. Just a flat out nice, personal touch.
When we launched Sequence a few years ago our mission was to integrate the resources of a global agency and the personalized service of a boutique. As we grow, that mission and balance continues to drive us, and on an everyday basis you see so many large corporations that have become disconnected with the relationship component of their business. But every now and again, you see it done really right. And if a company as big as Starbucks can pull it off so well, it gives the rest of us something to strive for.