---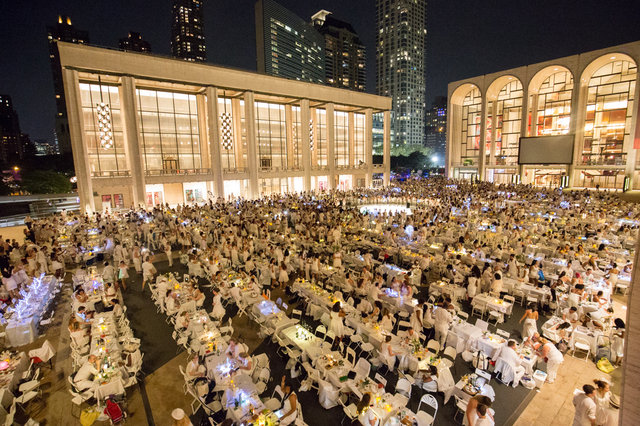 Courtesy of Sai Mokhtari/Gothamist
Fighting rush hour subway commuters, August temperatures, and the logistics of obtaining and hauling tables, chairs, linens, kitchenware, and a dinner picnic, five thousand New Yorkers assembled for a massive dinner party outdoors at Lincoln Center Plaza. The twist: the guests must only wear white, and are only told the event location moments before they arrive (shuttling from meet-up stations throughout the city).
Diner En Blanc 2017 was the sixth time the international pop-up party happened in NYC. The concept began in Paris in 1988, and the flash gathering has grown to over 70 cities on six continents, with the Parisian fête attracting more than 15,000 guests. Antarctica, Get. ON. IT!
The event is not for the logistically-faint-of-heart. Between the rapid fire ticketing process (the event sells out in a matter of minutes) and the immense rules and packing list (Don't even think about wearing beige!), guests must be committed and diligent in order to be spontaneous.
That said, as a newbie to the festivities, color me impressed! The creativity displayed in food design, décor, fashion, the surprise entertainment (ranging from a drum line to operatic performers), and the camaraderie of the guests made for a magical and memorable evening.