---
Excitement is high. Imagination is the only limitation. It's an event producer's utopia, otherwise known as branding on a big budget. In a stunning revelation, having lots of money to spend on an event is fantastic. Often times though, more cash isn't in the cards. This might mean you need to infuse some extra creativity, but it also gives you an opportunity to really prove your worth. Here are five ways to add branding to events without breaking the bank.
1- Drum Up Some Decals.
Die cut adhesive vinyls go a long way as subtle touches to seamless branding. The impact can be significant, they work with both large and small-scale events, and the cost is relatively minimal. Walls and windows are the traditional surfaces that come to mind, but don't be afraid to get creative! Photo props, games, decor, trays, and glasses, etc. They can be a fit almost anywhere.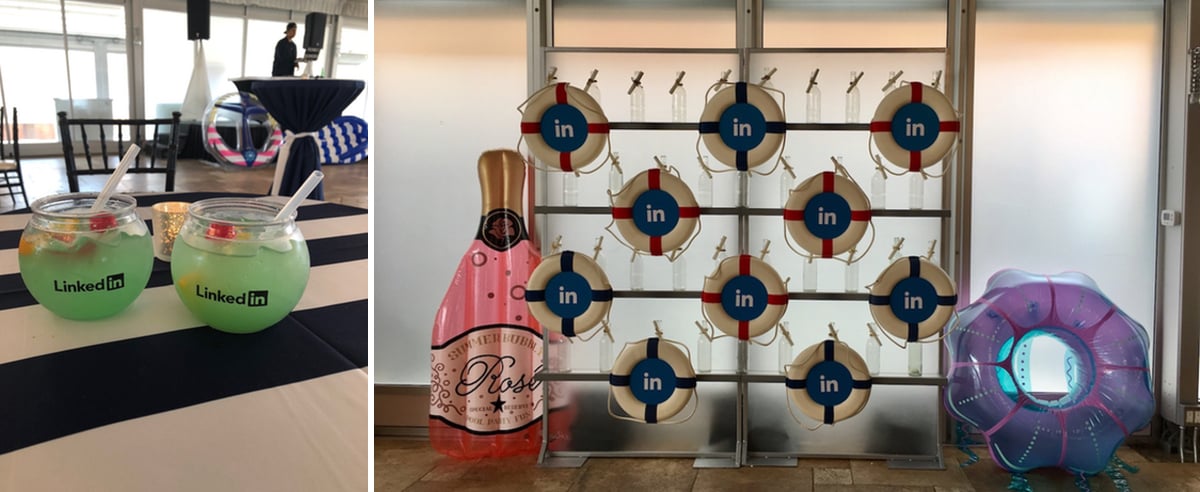 Get creative with adhesive vinyls for cost-effective branding.

2- Giveaways Shouldn't be Leave-Behinds!
Giveaways can leave a lasting impression, but too often they don't last past the nearest trash bin once guests leave an event. If you're going to invest the money, don't just slap your logo on anything. Make sure you're giving away something that your attendees want — or need. At a recent multi-day conference we created a complimentary 'Amenity Store', where attendees could visit throughout the day and pick up commonly requested items. Things like Tide to Go, mini mint containers, hand sanitizer, emergency phone chargers and Colgate wisps. Every items wasn't branded, but between the ones that were and the overall store branding, the idea was incredibly effective. Practical and popular, without being pricey.
At a recent multi-day conference we created a complimentary 'Amenity Store', where attendees could visit throughout the day and pick up commonly requested items.
3- Make an Entrance.
Often times the most impactful branding can be when a guest is walking into, or out of, a space. In addition to immediate brand exposure, you're also capturing guest attention before they're stimulated by other visuals, experiences or people. Immediate branding opportunities include stairs or escalators, registration desks or maybe even an archway or entry-tunnel. In addition to creating an immediate impact, this type of branding can also double as directional signage so guests know they've arrived.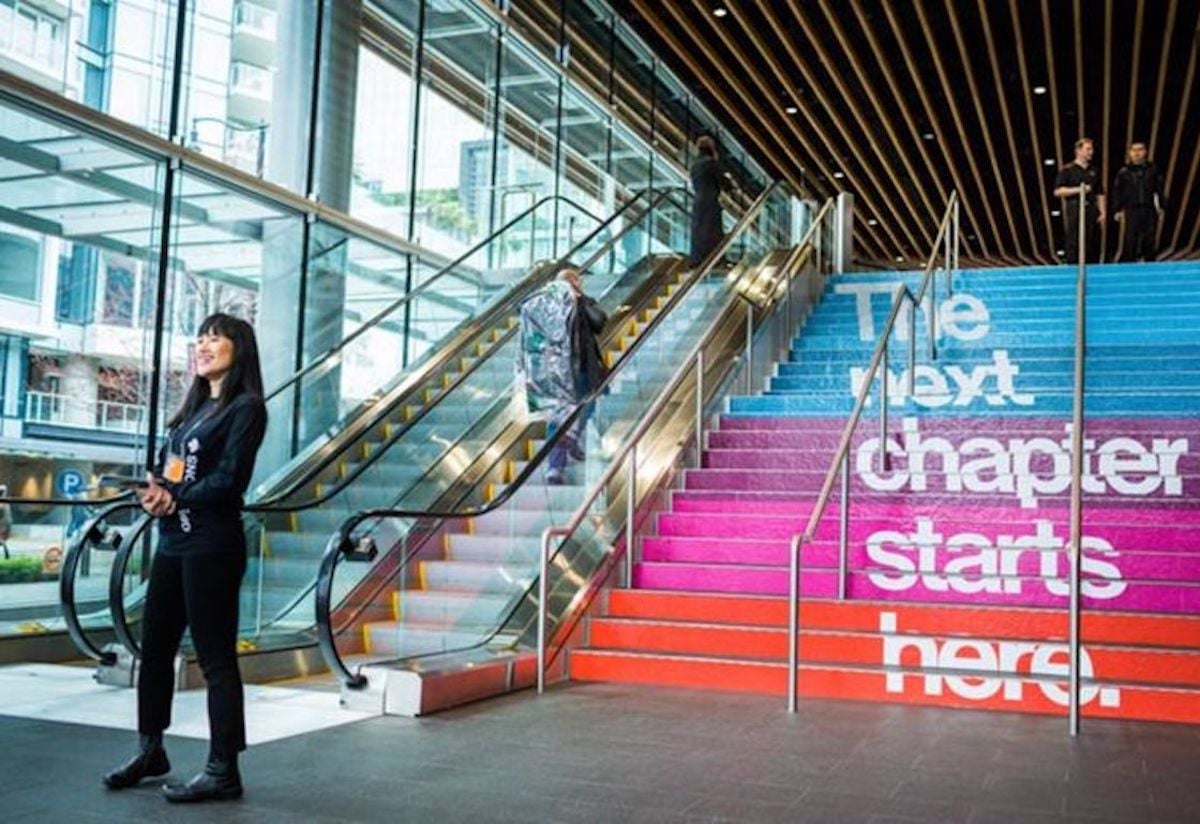 Make an impression from the start.

4- Build-a-Bars.
When you're in need of bars for your event, the common solution is securing them from a rental company. This works fine, but can be expensive without having a customized look. A creative alternative is securing tall rectangular tables and renting simple bar screens. In addition to being cheaper, different screen fabrics will allow you to create a look that matches your style, and integrate some more branding as well (like those handy decals!).
5- Forget the Flowers.
If money is tight and branding is important, consider non-floral decor to integrate branding and engage your guests. Illuminated lanterns are a fantastic way to feature content like testimonials, photos, or key messaging. Single lanterns can take the place of smaller arrangements on cocktail tables, and sets can substitute for traditional centerpieces.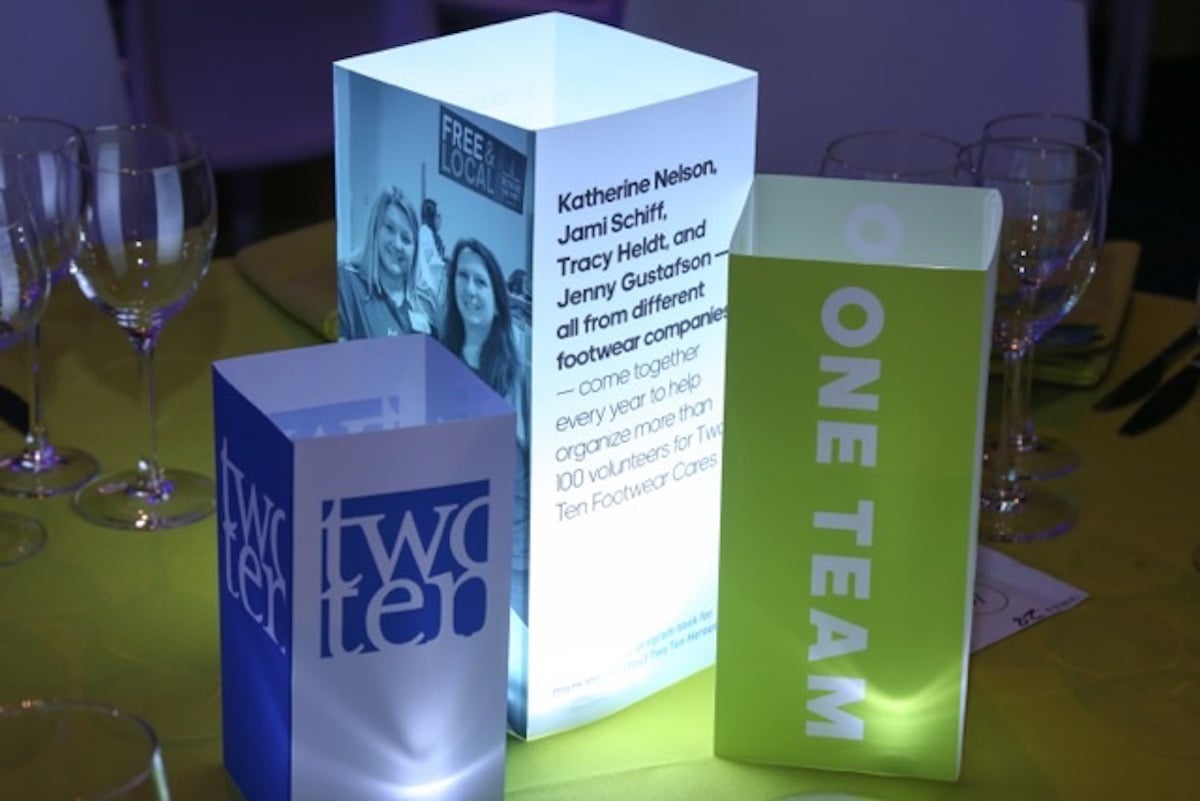 Big-budget branding can be a dream, but getting creative with your dollars doesn't need to be a nightmare. Remember that there are always ways to infuse imagination, and make sure your event's message is loud and clear.