---
With the recent progress in the US and easing of restrictions on in-person events, many of our clients are eager to safely move forward and bring back a focus on exceptional food service, using culinary experiences to surprise and delight in-person audiences.
The events industry is obsessed with innovation, so instead of this new world feeling like a setback we see this as an opportunity to raise the bar on new and improved, creative, and safe hospitality (we love these awesome ideas from our friends at BizBash!). We are thrilled to be exploring how to ensure food is prepared, displayed and served safely without compromising on taste or experience.
As a boutique event agency that specializes in designing all aspects of in-person and hybrid experiences, our team knows how important the food and beverage (F&B) components are to in-person events. Sequence has strong relationships with experts across the F&B industry, so we've been chatting with our renowned industry friends to get the insider scoop. Enjoy!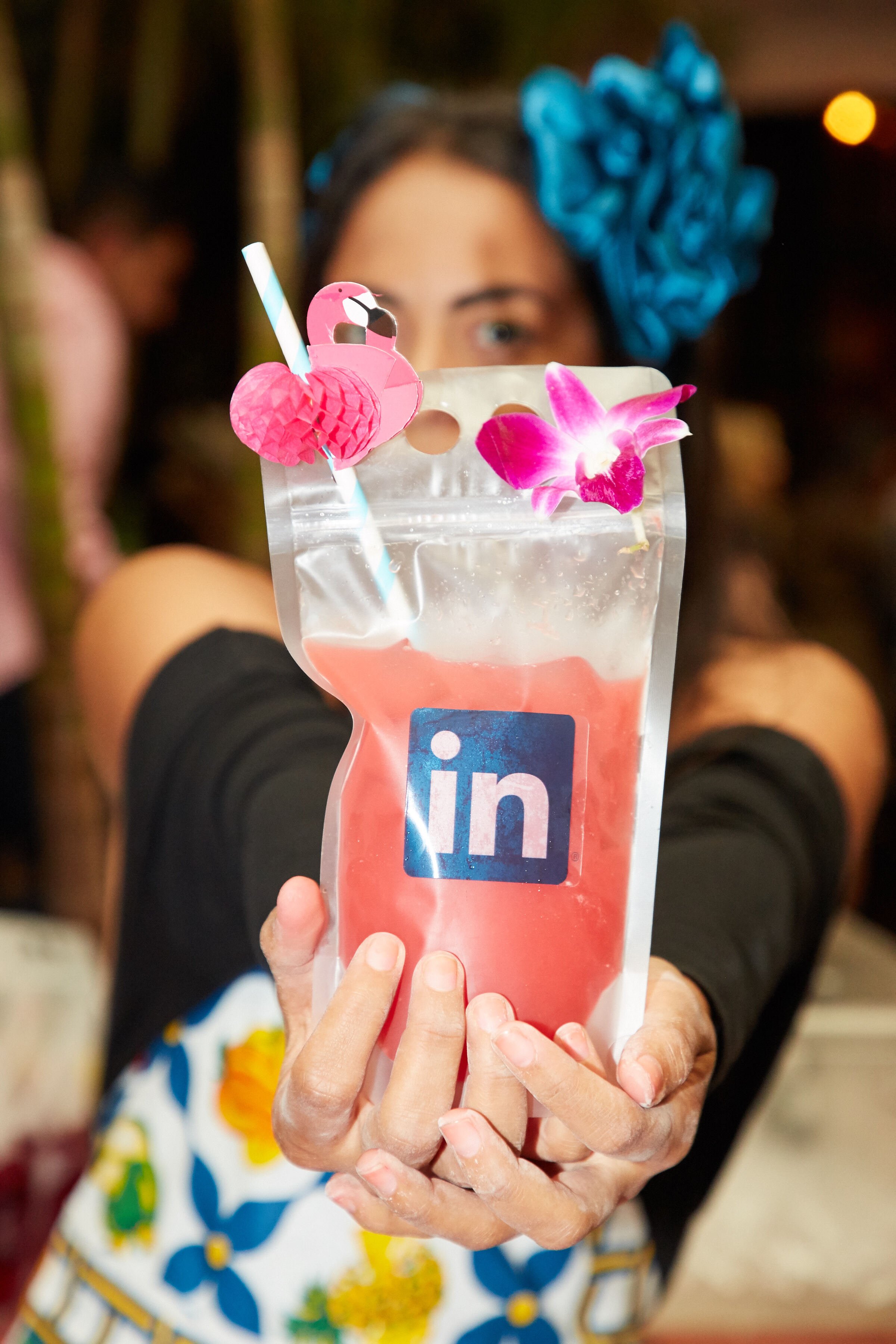 1. What kind of changes in food and beverage should we expect at in-person events in 2021?

"We are seeing that clients' catering proposals are reflecting innovative ways to use individual vessels for grab & go and even hors d'oeuvres. I also think that people are focusing on clean eating, and supporting local restaurants by bringing in pop-up tasting stations and hiring famous chefs to spearhead dinners."
- Erica Sklarek, Assistant Director, Event Sales, Glasshouses

"Self-service food will not be in style in 2021. Passed hors d'oeuvres will remain in individual vessels so guests' hands will not be able to touch other guests' food. Limited food pre-set on the table, so timelines will need to be adjusted slightly to allow for seated service. Bento Box, mostly daytime, will be more common to limit interaction at the table. Table sizes are going to be a little larger to allow for more elbow room."
- Allan Kurtz, Managing Director, Gotham Hall & Ziegfeld Ballroom

"With food stations now being attended by wait staff and chefs rather than by guests helping themselves (to mitigate cross-contact of serving utensils by guests), I am excited to see more live-action cooking and dish composition at events. Guests are interested in seeing their meals come to life in front of them and getting a 'peek behind the curtain'. I believe that we'll see new menus and station designs tailored to a more interactive style of service that is Covid-safe, but ultimately even more fun and eye-catching than pre-Covid. "
- Will Joseph, Director of Sales, Abigail Kirsch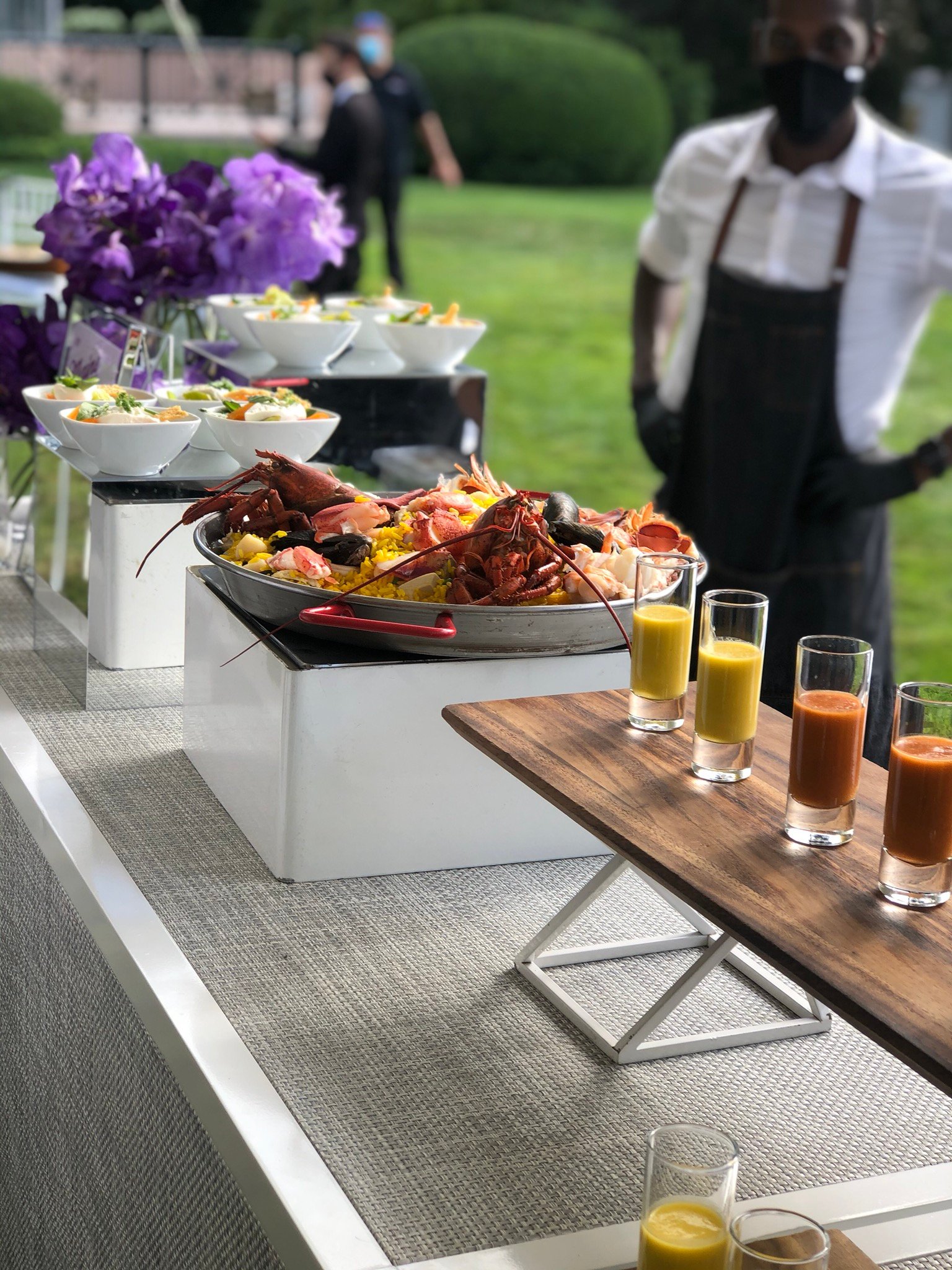 Photo courtesy of Great Performances
2. Given the current restrictions, what is the greatest challenge to creating a lasting F&B experience at an in-person event?

"All of what we do revolves around bringing people together by emphasizing community, conversation, and closeness. We've had to reimagine the entire event process and try to balance guest safety, with the overwhelming need for humans to gather and connect. One of the challenges has been finding ways to regulate safety protocols without letting the protocols take over the entire guest experience. After many conversations, we feel strongly that we can provide guests with the best of both worlds."
- Madeline Fauntleroy, Assistant Director of Banquets, Pier Sixty

"In addition to delicious food and eye-catching design, Pinch has always prided itself on our stellar and friendly service. As a company that prioritizes interactive presentation, it isn't any surprise that we tend to attract and seek servers with performance backgrounds. Inevitably they add a twinkle, smile, and flair to our service, and ultimately make the events more memorable for all in attendance. With the current restrictions, the greatest challenge has been finding ways to encourage guest & staff engagement while being masked."
- TJ Girard, Creative Director & Owner, Pinch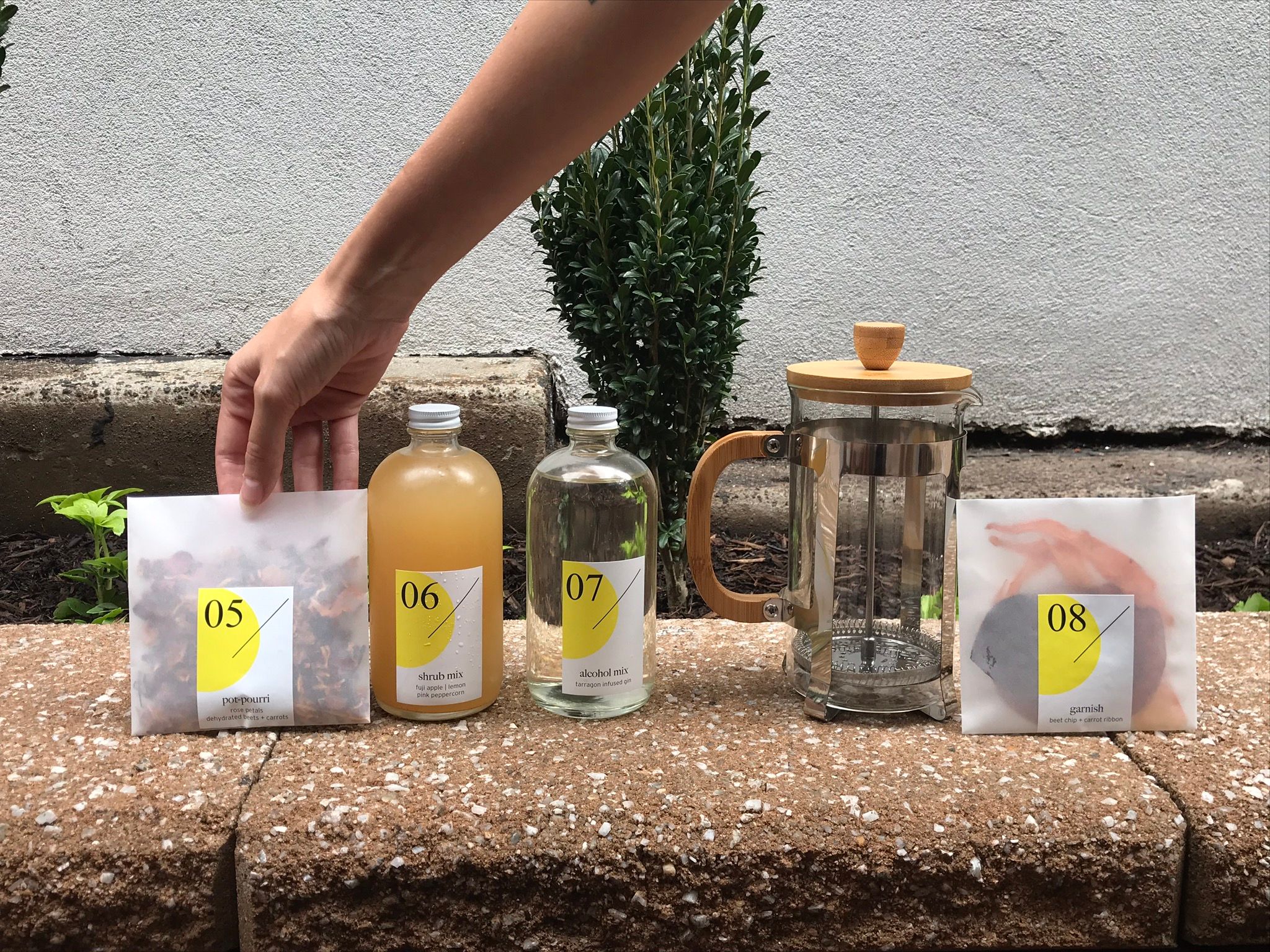 Photo courtesy of Pinch
3. What will food stations and bars look like for the foreseeable future?

"Attention to health and safety will continue to be a focus for food stations and bars. We'll see automatic sensors that close buffet food items so there is less possibility for the spread of germs and integrated UV-C cleaning systems, including a sweep of the event to sanitize surfaces."
- Natalie Sturgis, Director of Event Services, Great Performances

"I think bars will be similar in style [to pre-Covid], no one likes the plexiglass dividers. Food displayed with self-service, like a cheese display or grabbing trail mix in a larger vessel on the bar, is not going to be very popular. Chef attended stations will continue [to be] in style for the foreseeable future."
- Allan Kurtz, Managing Director, Gotham Hall & Ziegfeld Ballroom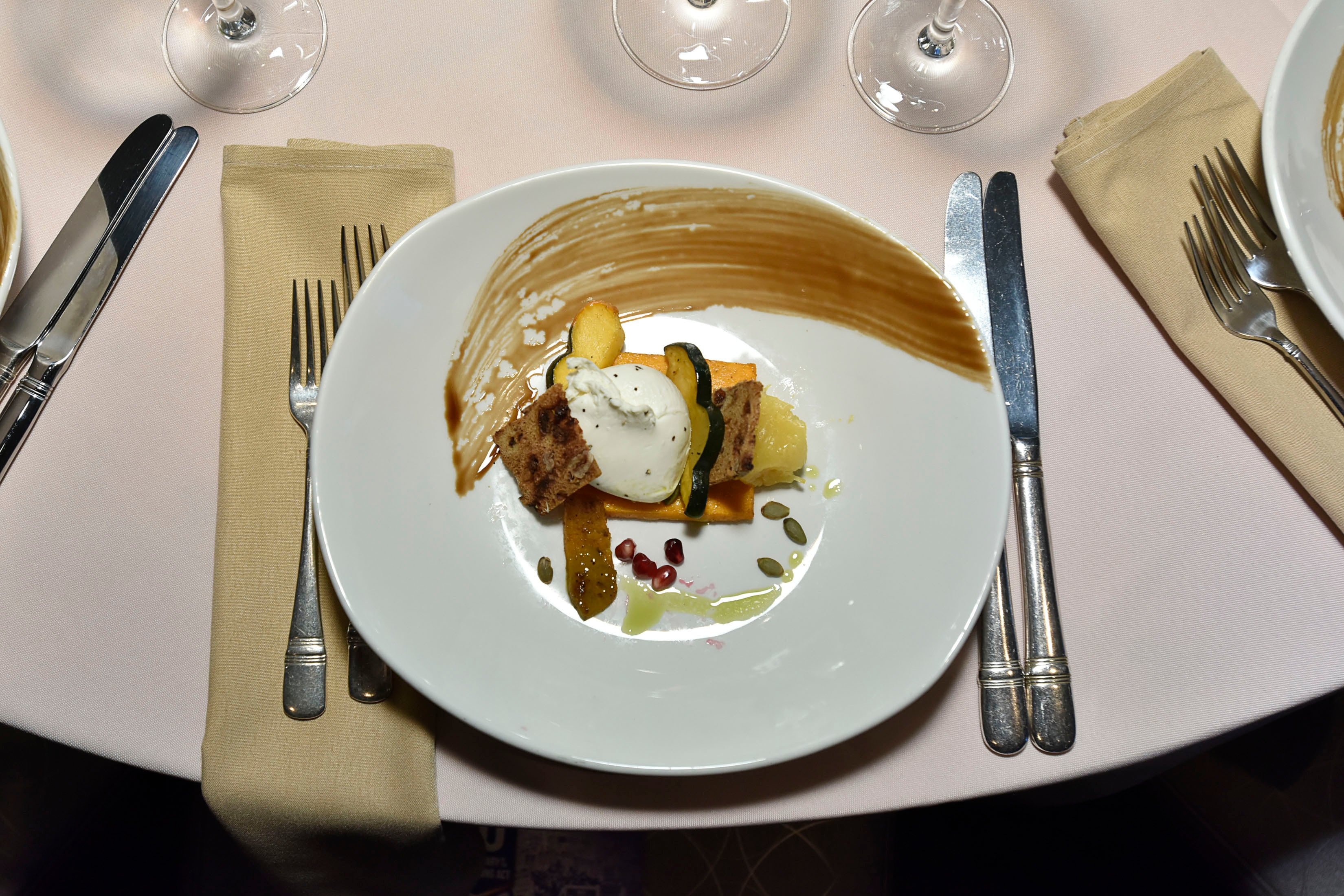 4. How will cocktail receptions look different? Can we still pass drinks and hors d'oeuvres?

"We've been passing drinks and hors d'oeuvres throughout Covid, but we've adapted to enforce even stricter health and safety protocols. We've brought back "white glove" service, almost literally – our wait staff are wearing black gloves – which will likely become standard even post-Covid. Instead of queuing at a bar, often a bottleneck at events, we'll also have the option of wait staff taking orders and delivering them to guests directly."
- Shaun Roberts, Vice President of Sales, Great Performances

"You can pass food and drinks no issue, especially with a fully vaccinated crowd where it is as if Covid never existed! Cocktail receptions will still have more seats than normal because there will be some guests that do not want to walk around eating and drinking, even if they have been vaccinated. If over 250 guests, having two sections [for] vaccinated and unvaccinated [guests] for cocktails are conceivable."
- Allan Kurtz, Managing Director, Gotham Hall & Ziegfeld Ballroom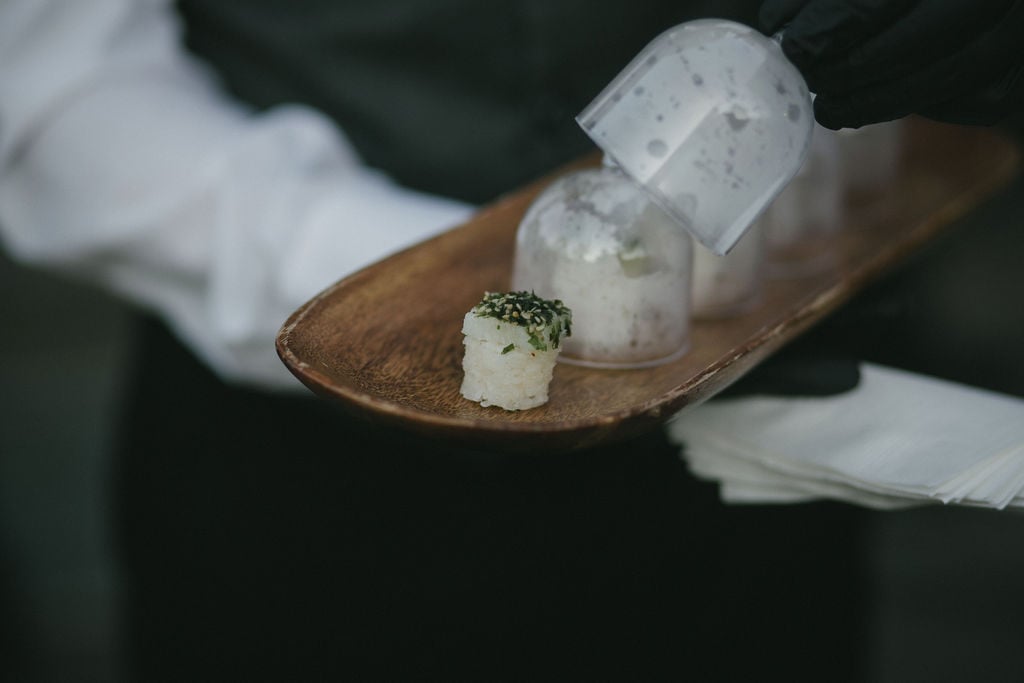 Photo courtesy of Great Performances
5. What innovative trends is your team predicting for our new world?

"We're going to see more of the confluence of technology and service and more of the hybridization of collective and individual service styles. While we won't see QR codes on tables at events, we may see some self-service kiosks where people can select their food or beverage through interactive screens. There will still be the personalized service and guests will be able to interact with wait staff and bartenders, but they'll have the tech option.
Although buffets will come back – we're already seeing that many states have approved them – I think we'll see individually-portioned servings rather than large piles of food. Design will be more integrated with food service to create stunning settings and Instagram-worthy tablescapes."
- Carina Hayek, Director of Marketing, Great Performances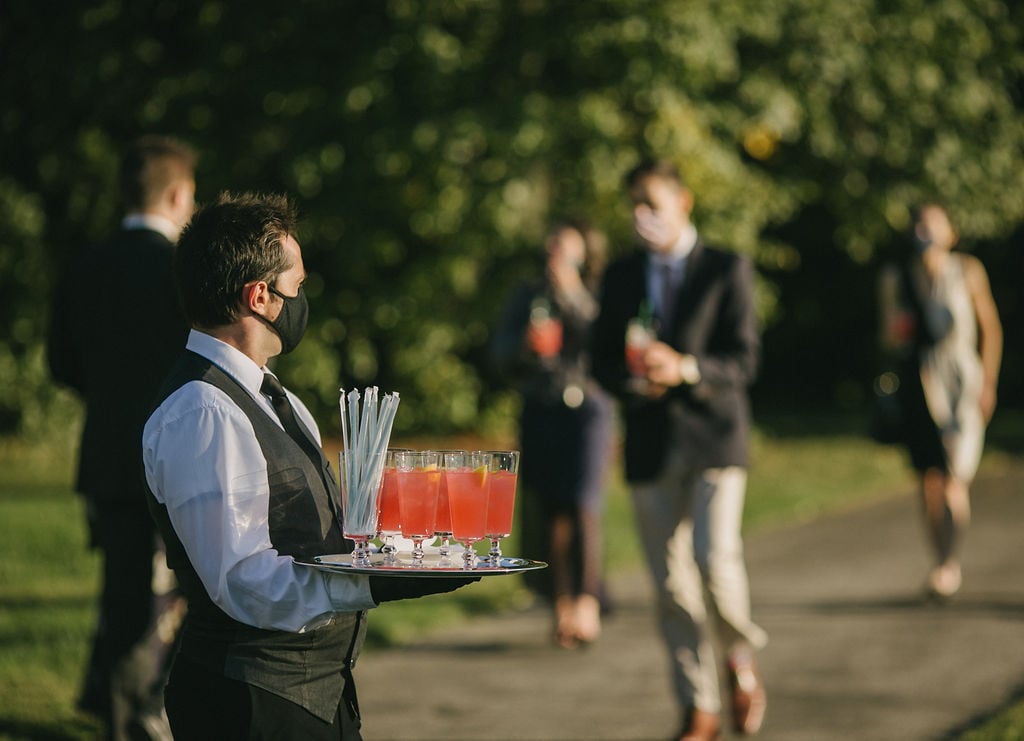 Photo courtesy of Great Performances
6. What from F&B service in the past can be reinvented for future events?

"People want to have parties and to get back to socializing. Like the Roaring 20s which followed the 1918 Spanish Flu, in 2022 (and even late 2021) we're going to see people celebrating life like never before. But just as we're referencing the Roaring 20s, our service styles will revert back to those times.
'Old-fashioned' traditional service will be more important than ever in the coming year. White glove service and proper service etiquette will once again become the standard. Buffets will be manned with wait staff providing service rather than guests helping themselves. Emphasis will once again be on the presentation of courses at seated dinners as well as proper service."
- Ronnie Davis, Managing Director, Great Performances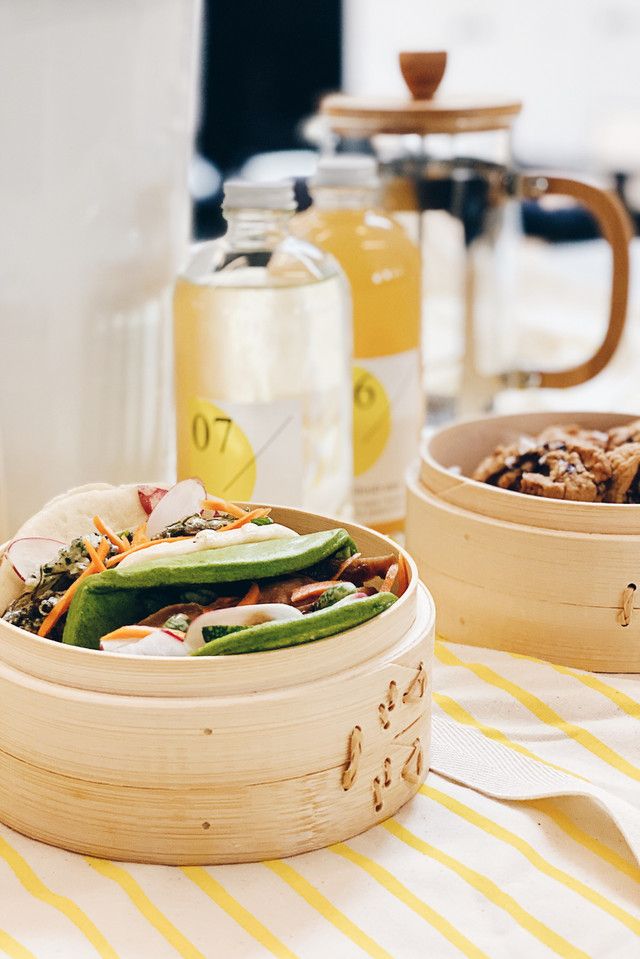 Photo courtesy of Pinch
7. How has your menu development changed post-Covid?

"Our passion for innovation at its core is the willingness to take risks and turn things upside down, or in our case serve food-filled mason jars in a sous-vide stick heated swimming pool. Inspired by David Hockney's iconic pool paintings, we dreamt of the new grab & go station. Our shake n' eat menu is kept at the perfect temperature in a sous-vide bath. Prioritizing warm individual portions without sacrificing interactivity, guests grab their jar, shake to emulsify, and enjoy without ever coming in contact with another party-goer's plate. One of our most popular jar menus is the mushroom "risotto" with parmesan butter, hon shimeji, arborio, mushroom broth, and a pinch yellow yolk!"
- TJ Girard, Creative Director & Owner, Pinch
As we all return to more in-person events, our team feels extremely optimistic with the recent updates from the CDC and progress for the better every day. Look at how incredible our recent Drive-In Event with The Wall Street Journal went! The events industry may never look exactly the same, but we think the future will be even better than before!
If you need help navigating food service, visual design & identity, technical production, or any other event elements, look no further than Sequence! Sign up for our free 30-minute consultation to find out how we can help you bring your brand's goals and messaging to life via an in-person or hybrid event experience. We can't wait to connect with you!