---
Oh, hello 2013, you have wasted NO time in keeping Team SEQ incredibly busy! The last few months have been crazy awesome for Team SEQ (wait, when is it NOT always crazy awesome?) From black-tie award shows sprinkled with peanuts and Cracker Jacks (Holla! HSMAI Adrian Awards) -- to Cirque du Soleil inspired whimsy (Heeey TOTY Awards!) - we've enjoyed every creative second of producing our clients vision! On Thursday, March 7, we had the pleasure of producing the Wharton Economic Summit, an exclusive, day-long conference which brought a number of experts together from across the spectrum of business and economic policy to discuss the most critical issues faced by the world's most respected business leaders today. A top-notch event like this deserves a lot of top-notch attention and Team SEQ was thrilled to cap off an exciting first quarter with such an an amazing finale!
So, when the guests go home, the messenger picks up the last of the event boxes, the last hugs and "thank you's" circulate between event producer and clients, what happens next? Most would think a little bit of down time (in some cases .. yes) but most events (prepare yourselves) end with the incoming pressure of another event. And so the cycle continues. As we rub the bottoms of our feet, prepare our business suit for dry cleaning, and check email with one eye open -- event producers are always ready and anticipating the next project. We eat, sleep, breathe our clients and their events.
What's that you ask? Do event planners have lives too? Of course we do. Our lives are one big calendar of revolving events both personal and professional. And try as we might - we're rarely able to take the planner hat off! It haunts us. The detail of ANY event (ours or not) taunts us. And believe it or not - we still love it.
Remember that birthday party your friend held for her kids at Bounce-House USA? Yep- we were there- and mentally micromanaging the 17-year old student staffer in metal braces as she tried to wrangle all the wriggling bodies into the party room. Planning your best friends wedding? Why are you lugging around that massive (and awful) Martha Stewart wedding binder? If it were us planning the wedding, all we would need is a planning timeline, an event final and budget -excel-formatted - living on an iPad Mini.
Still trying to wrap your head around what the heck I'm talking about? Look no further - this post would not be complete without a living pictorial example. Just this last weekend, I attended a dinner and awards reception for a dear family member who was receiving a prestigious acknowledgement for his lifelong commitments and accomplishments. I was (and am) so proud! But... the event lacked serious event common sense. Uh-oh. My "guest hat" was fighting with my "event producer hat" -- and the battle was brutal.
Exhibit A - Photographer / Videographer
Event DON'T: Camera Man - MUST you stand in the MIDDLE of the dance floor? There are certainly positions around the perimeter of the room, on the outskirts of guest seating, where you could discretely film the acceptance speeches so as to not block the views of friends and family. Dear readers, what you didn't see was the photographer who appropriately got right up into the face of the speaker the second he took to the podium. Ever heard of a zoom lens?
Event DO: Here's our SEQ Suggestion: Inquire as to the experience of your photographer and videographer- especially in regards to the equipment that they use so as to keep up with technology advancements! Also strongly request that they capture memorable moments discretely so as to not disturb the natural and organic admiration of the guests for the program. If this event asked us, we would have recommended a company that does an AMAZING job : we LOVE working with Frank at Natural Expressions.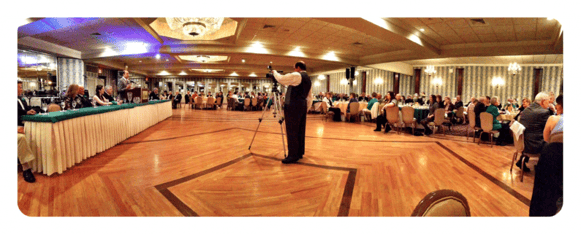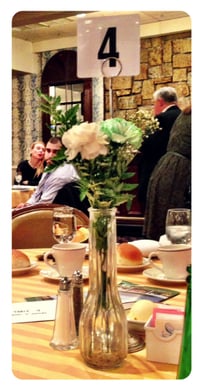 Exhibit B - Florals
Event DON'T: These green-dyed blooms look a bit like an afterthought. Eek - no water in the vase, dried minerals crusted on the bottom? Nothing wrong with carnations - but they need love too! This event needed to be aware of both table size and linen color as well as total budget. Plus the arrangement is too high-- if I got a dollar for how many times a male guest turned this arrangement on it's side so that they could speak to the person across from them- I'd have enough money to buy new florals!
Event DO: SEQ Suggestion: Sometimes, less is more. Budget too small for floral? Totally fine- nix the flowers altogether and sprinkle the tabletop with simple votives. Candlelight always lends itself to warmth and elegance. Can't part with flowers? When a vase takes up 80% of your overall arrangement- there's a problem. Stretch that budget, chuck the baby's breath (blegh) and float blooms in shallow containers of water. Boom! If this event were to ask us for some recommendations, the gals over at Blush Designs are fantastically sweet, work with your budget and love your event as much as you do!
Exhibit C - The Menu
Event DON'T: Chicken, fish or beef? Whichever you selected, the kitchen's pre-selected poker chip would appear at your place setting. Let's not even go into how unappealing poker chips are as clutter on the tabletop - but every 2 tables (of 10) had it's own server. Could they not have taken down 20 guest requests and reported back to the kitchen effectively without patriotic themed poker chips? Here's the kicker: when my beau and I ordered the "Filet Mignon" - we asked if we could specify a preferred cooking temperature or if the chef preferred to send out the beef all one temp. The server replied with, "You mean..hot?". *slap forehead *
Once our meal came out, "Filet Mignon" it was NOT- more like slab of roast. The temperature (cooking) was more rare than medium-- and the temperature (degrees) was more carpaccio than grill. Resorting to my twice baked potato to save the day (yum!) - I'm finding that the potatoes are of the fake boxed flake kind and not directly from the spud -- and my vegetables most certainly came delivered in a can. Sad day for foodies like me!
Event DO: Two SEQ suggestions for this event. #1 Standing dinner receptions are the best craze! Appeal to discerning tastes and unpredictable event timelines. Allow your guests to mix and mingle amongst stations of appealing goodies! No more poker chips, save $$$ on labor costs, and keep your guests happy with a selection of culinary themes and selections. #2- decide on a pre-plated, room-temperature menu. Accompany with a salad plate, a basket of baked goods and a colorful cocktail. No choices, no temperature issues - just one gorgeous plate of food that will undoubtedly appeal to all guests. The Wharton Economic Summit had amazing pre-plated dining courtesy of Great Performances - we highly recommend them!

Exhibit D - Guest Interaction
Event DON'T: I kid you not - this picture is from 2013- taken with my iPhone, not from the depths of your dads 35mm. While guests are getting seated and interacting with others - do not shove a camera in their face and ask them to make a video tribute to the guest-of-honor. ESPECIALLY with a corded 1970's microphone. What!? Time warp.
Event DO: There are so many alternatives to looking completely outdated. Set up a corner with a gilded frame for an instant photo booth, interact guests with a creative guest book, offer tribute pages for guests to contribute their personal messages for a keepsake to cherish for years to come. There are so many options that can completely eliminate the need for a videographer to play "news reporter" throughout the event.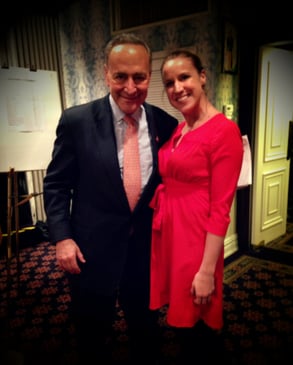 Exhibit E - Element of Surprise!
Event DO: There is no event "don't" here -- this event -- with all of it's need-for-improvement, nailed something awesome! In the midst of a lot of laughs, dancing, congratulations, cocktails and chat... in walked a most amazing surprise guest- NY Senator Chuck Schumer! If there's one thing I can most definitely attest to - if all else fails, make the event unforgettable in a good way. Although, the photographer was nowhere to be found (shocker) - my beau snapped a pic of me with his iPhone. If I didn't already have a premeditated need to write a blog post, I probably would have forgotten all about the flowers, the steak and the videographer - all for my chance to rub elbows with history and have something to instantaneously post on Facebook, Tweet, and Instagram! And thats what its all about folks-- guests want to share how much FUN they're having - and if you can provide them with at least one opportunity to be major bragosauruses - you win! #WINNING #COOLEVENT #BETUWISHUWEREME
This may all sound a little judgmental--and it is. And unless you're our BFF, we would never say it to your face. But we're watching, taking notes, snapping pics to post on our blogs and talking behind your back. We take pride in improving our skill on the back of others mistakes. We strive to improve based upon the experiences of others. We hope that other event planners (or not) are looking at our events too and saying the same thing. We're all pushing to raise the bar event after event, year after year. All events (big or small) can take inspiration from other events. Huge budget vs. teenie budget, Grandma's birthday party vs. company award gala, local vs. worldwide -- we're all trying to push the limits and WOW our guests....
That is, after we take mental notes and talk all about yours!