---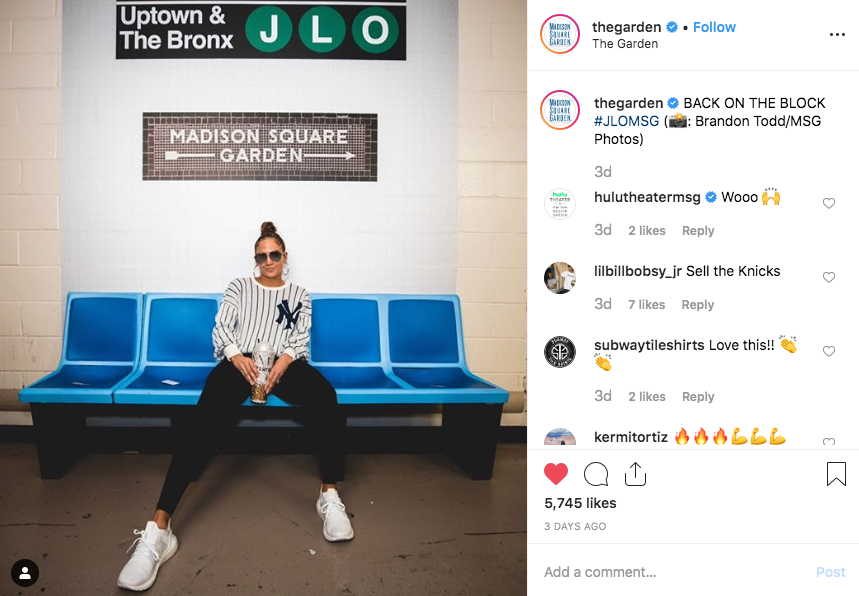 Last Saturday night our excitement was sky high as all was perfectly set and staged for the second night of JLo's "It's My Party" Tour at Madison Square Garden. The Sequence Team was brought on by MSG to design and produce a variety of backstage spaces customized for JLo (who hadn't performed at The Garden since 2003). Experiences included a tinsel balloon entrance moment, a JLo-themed MSG subway station, a VIP room beadazzled to the max, and a 3D photo moment inspired by her tour graphics. Not to brag, ok maybe to #humblebrag, JLo LOVED the VIP room we designed so much she decided to use it for her private VIP after party for family and friends! You can check out some of it here.
However, JLo was 30 minutes into her set when the arena went black...
The emergency lights went on and an announcement was made to "Please evacuate very slowly and calmly. There is a city-wide massive power outage." MSG Security handled this like true professionals and made sure everyone was safe and calm as they exited. JLo took to instagram to address her fans and express her heartbreak at the abrupt end to her 2nd homecoming show in NYC. (Team SEQ was lucky enough to see the show live on Friday night and it was incredible!)
In a late-night crisis strategy session, the MSG and JLo teams came to an agreement that the show would be rescheduled for Monday night. This meant that Team SEQ needed to feverishly roll up our sleeves and figure out how we were going to place rush orders on fresh 3ft branded balloons, and to get a hold of all of our other partners on a Summer Sunday to be ready for load in and refresh #3 Monday morning. (Read more about the extent of the blackout here)
Here's what we did:
1. First, we checked in with our amazing client and all of our New York-based team to make sure everyone was safe, because safety is always our first priority!
2. Then, we got to our own emergency planning. We talked with our client to see how we could best support them in all of these fast-evolving plans. Texts, phone calls, and follow up emails were flying to track down everyone who needed to be alerted. Thankfully, we work with some AMAZING partners that were incredibly understanding and happy to help us (and JLo's fans) out.
3. In the end, we were able to keep our rentals for 2 extra days. Our partners worked with us on a discounted extension price due to the extenuating circumstances. We were so glad that our client didn't have to stress about an astronomical charge for keeping our backstage magic going!
We'd love to say that this type of thing rarely happens, but we all know that there's no such thing as normal in live events. We're so glad that no one was hurt, and that what could have been a very scary situation turned into an opportunity to be awesome! We hope JLo loved all of our special moments and that her fans were able to enjoy last nights show #LetsGetLoud!