---
Yesterday, TeamSEQ had one of our favorite Spring events, the Children's Book Council & Every Child A Reader's Children's Choice Book Awards at the lovely Capitale. After an interesting twist in last year's event planning, we were SURE that nothing would go wrong this year. We'd paid our dues to the Event Fates and checked off the "been there, done that" item on the Event Planning Nightmares list.
Oh contraire.
After an incredibly smooth-sailing day of event load-in and setup (kudos to Larry and his wonderful staff at Capitale, and to the Bowery Production Group team lead by Nael), our event began at 6PM as planned.
At about 6:14PM, the fire alarm stared going off! Our 8-year-old reader Ben who was in the middle of rehearsal onstage yelled "Fire drill! Fire drill!" as all of us more conditioned adults basically ignored it. Moments later, smoke began to waft from vents backstage and all through the front cocktail space. This was no drill!

While many guests headed to the bar in an attempt to gather a last-minute evacuation drink, security herded us all outside as 3 (yes THREE!) fire trucks pulled up and about 20+ of New York's Bravest headed inside.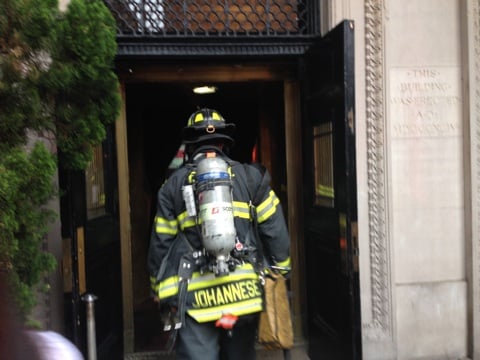 Now, this is where I tip my hat to our AMAZING CBC / ECAR clients. They all remained calm with charming "whatareyagunnado" smiles adorning their faces, and so their guests followed suit continuing their networking on the Bowery sidewalk.
So we waited and waited, and just as the drizzle began to pick up 30 minutes later we were cleared for re-entry! Servers rushed to their stations to be ready for the incoming throngs of cold, hungry and thirsty guests (evacuation drinks were not allowed on the sidewalk after all).

The AV and Backstage staff pow-wowed and with client approval we extended the dinner reception 20 minutes. As testament to this true team effort, we began the award show at 7:31 - only 16 minutes later than scheduled!
One thing is for sure, there's no ignoring reality even in the polished world of Special Events. Things happen, and it's our job to roll with it as we always do. The most important thing is that everyone was safe, and it proved an interesting start to an otherwise impeccable event. High fives to all involved, and we have another memorable CCBAs for the history books.
So, bring it on Event Fates! TeamSEQ is ready for you. [knock on wood]