---
"Holy Shit". That was the subject of the email I received from my father on Friday morning. The message was a link to a YouTube video, a video that inexplicably showed my step-brother Ian starring in Bud Light's primary Super Bowl advertisement. We had heard rumors that Ian was going to be involved, but this was more than involved. This was a three minute and forty-five second adventure of him enjoying a bachelorette limo ride with Reggie Watts, being stylized by Minka Kelly, riding in an elevator with Don Cheadle (and a llama), beating Arnold Schwarzenegger in ping pong and singing on stage with One Republic. If you haven't seen the clip by now, here it is. Pretty crazy stuff.
http://www.youtube.com/watch?v=gKKVQLDYYcw
So Ian's a star, and believe me when I tell you that stardom couldn't have found a nicer guy (well done Bud Light). What's so interesting about Ian's newfound fame though, is that it had very little to do with the Super Bowl. Yes, the commercial was made because of the Super Bowl. Bud Light took the 3:45 video that I watched Friday morning and edited it down to two shorter clips that ran during the game, and the only reason they probably put the campaign together in the first place was because they had bought the SB spots. But by Saturday afternoon (36 hours after it had been released), Ian's video had 3 million views on YouTube. By Saturday night, 4 million views. And by the time the two condensed spots had been shown shortly after kick-off last night, 7 million people had already experienced Ian's wild ride. Sounds to me like Bud Light had accomplished its mission irrespective of the actual Super Bowl spots. And they weren't alone. Budweiser released their Best Buds ad on Wednesday, and by Sunday evening it had 34 million YouTube views.
The early release trend really picked up steam in 2010, when 13 ads were debuted prior to the game. That number ballooned to 27 in 2011, 34 in 2012, 42 last year, and let's just call it an awful lot this year as well. There are only 50-55 ads in total, so at some point that number is going to have to taper off, but it still appears to be climbing.
I get it, of course. Super Bowl spots are becoming more and more expensive, and companies are getting smarter. Why strive to win a single evening when you can aim to win the week instead? It's a strategy that's hard to argue with, considering that Super Bowl ads were viewed online a total of 370 million times last year.
But to pull a page out of grandpa's book, I remember the good old days. When a slice of pizza was a dollar, you always had enough money in your wallet to pay for a movie ticket, and Super Bowl ads were as highly anticipated as the game. The post-commercial buzz, when everyone could decide both individually and then collectively what they thought of an ad, almost like a group bonding experience. These days, everyone's seen just about everything beforehand, and watching commercials seem to be just as intolerable as they are when you're watching anything else.
So yeah, it was a blast to watch Ian over and over again in the days leading up to the game and enjoying his wild ride. But in the event I'm not related to any of the actors next year, the early Super Bowl ad release is one trend I wouldn't mind seeing decline. I know it's probably a long shot, but anyone out there holding out hope with me?
PS - If anyone happens to run into the Broncos, let them know that next time GPS is a must.




[caption id="attachment_1376" align="aligncenter" width="300"]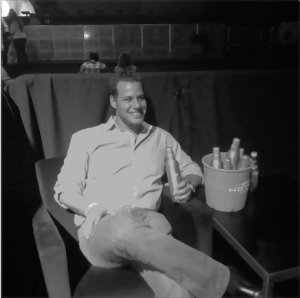 Ian spent the weekend at the Bud Light Hotel and
seemed to enjoy himself. His Super Bowl commercial
went viral well before kick-off.[/caption]