---
Ah the events industry! It can be so very glamorous. The lights, the linens, the flowers…the permits? In today's age of creative, out-of-the box, blowout bashes, permitting is more a part of event life than ever. Though never sexy, the permitting process can end up being the most integral component of a planning timeline. In essence, certain parts of your event -- or even sometimes the event itself -- may not be able to happen without one!
So yes, permits can be crucial. But when exactly do you need them?
Chances are if your event is taking place in a ballroom or traditional event space, you're covered. If you're going the alternative route though, here are a few instances where you may need to breakout your permitting proficiencies**: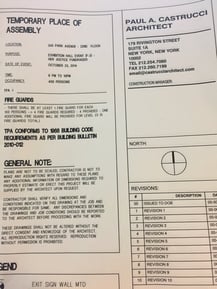 Tenting
Any tent above 10' in height requires a Department of Buildings (DOB) permit
Any tent larger than 400 square feet is subject to DOB + Temporary Place of Assembly (TPA) permit
Fully enclosed tents require FDNY + TPA permits
Any tent that requires a TPA permit requires fireguards. These fireguards must be certified and stand at the entrance and exits making sure legal capacity is not exceeded
Any tent that is up for more than 30 days requires a DOB permit.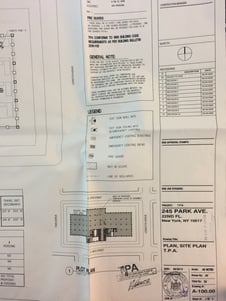 SEQ Tip #1: Often times your tent vendor will file these permits for you. However, keep in mind that permitting costs (yes, permits cost money!) are never solidified until the application has been filed (as the circumstances are always dependent on outside factors at the time).
SEQ Tip #2: Note that two events cannot take place on the same block at the same time. For example, if a previously registered small tent is taking up half of 10th avenue and 39th street, you cannot ALSO file for a tent permit even if you are taking up the remaining open other half of the block. The only way to do this is to file under the previous event and "share" the space.
Sound
If you're amplifying sound of any kind outside (music, speeches, ceremonies, etc.) you need a sound permit. Further restrictions may apply if your sound is within 500 feet of a hospital, school, church, or similar institution.
Commercial Spaces
To use commercial spaces for events, you'll need a TPA permit. Since most commercial office buildings are not zoned for event-style occupancy, you'll likely have to apply to the DOB to extend the capacity. Along with the application you may also need an architect and expeditor to manage materials and liaise with the DOB, so this has a tendency to get complicated quickly!
Serving Alcohol
Most professional caterers have permits to serve alcohol, but this is required so you always want to make sure to ask. If you're working with a caterer that doesn't have permits, or if you're serving it yourself, you'll need to ensure you have proper paperwork. There are separate licenses to serve liquor and beer/wine, and a difference in attaining them. A permit for beer/wine is cheaper and usually easier to secure. Full liquor licenses require more time to file (typically 10 days at a minimum) and sometimes even require a caterer to sign on as well.
As events get more complex and planners continue to push the envelope on creativity, permitting will only become more common. The most important thing you can do is to continue to familiarize yourself with the process, ask lots of questions, and find knowledgeable partners.
Useful links to get started!
https://www1.nyc.gov/site/cecm/permitting/permit-types.page
https://www.sla.ny.gov/online-permit-applications
http://www.nyc.gov/html/nypd/html/permits/permits.shtml
Happy Permitting!
**Denotes that these laws mostly pertain to permitting policies here in New York City. Check local listings for permitting protocol in other cities.