---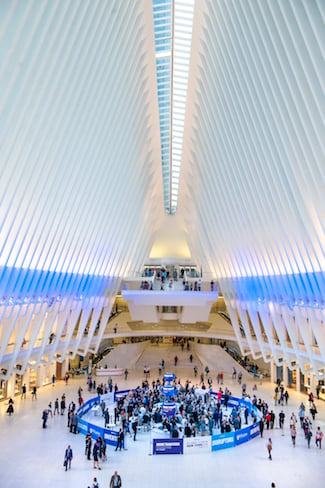 In almost any other venue, a two-hour cocktail reception for 300 people wouldn't warrant the batting of an eye. However when you situate that reception in the center of New York City's newest public transportation hub, things get tricky. Add in the tail-end of rush hour and the fact that it was the venue's first-ever private event, and it's abundantly clear that this is no ordinary cocktail reception. Here's what we learned producing the Opening Reception for Wharton's 2018 Global Forum at The Oculus:
The Basics
The Oculus is run by two entities: the Port Authority (PA) of NY/NJ that owns and operates the space, and Westfield, the corporation that manages the retail spaces and events. We quickly learned that the PA is the boss and Westfield acts as the liaison to the PA, guiding you through the approval process.
Every element of the event has to be submitted in an application months in advance to these two entities for approval. Every. Single. Element. However long you think this will take to complete, double it. This app is a doozy.
Once submitted, your event is at the will of the PA as it waits for approval. Despite submitting our packet months in advance, our event officially received approval only a week prior to the event date.
What to Keep in Mind
Respect the space. While there are certainly a LOT of hoops to jump through, it's important to remember to respect the space. Take a step back to remember where you are and the site's origins and you'll have a better understanding why, for example, the delivery process is incredibly strict.
Sa-cuurity. Security is TIGHT...just ask the vendors who have to submit their trucking and driver information into the vehicle security system. Luckily, the team at Westfield is very helpful on this front and will make sure you build in back-up delivery windows should a vendor miss their time slot or forget to bring something on the first go-round. No time slot, no delivery. Back of house access requires a badge to be signed out with a photo ID and, if the badge isn't returned, well….just return the badge. You'll also learn that no trash cans are allowed on the floor for obvious reasons.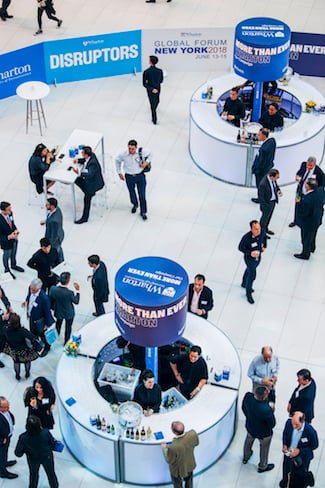 The. Floor. One of the greatest considerations throughout the planning process is protecting the floor. The white Italian Lassa marble tiles, clocking in at approximately $380 per square foot, are FRAGILE and require masonite or a conjunction of rubber and ArmorDeck (laid by Local 1 hands) depending what you're rolling across it. All furniture sits on rubber or has felt or rubber pads adhered to each leg to prevent scratching. Did we mention it's white? A spilled cup of coffee from a frazzled commuter could forever stain these porous tiles - as could a spilled glass of red wine. This impacted our bar menu as we swapped darker wines with seasonal rose.
Pro-Tip: Take a continuous video survey of the floor before and after the event and verbally call out any damage, cracks, or stains as you walk the space.
Lack of storage. Like many venues, onsite storage is tough. You may be permitted to store empties in an unrented storefront, but this option is a luxury and is dependent on retailer vacancy.
Tap into Institutional Knowledge. It cannot be stressed enough how important it is to utilize those who know the venue. Whether it is the team at Westfield, freelancers, or preferred vendors who are familiar with the space, it is well worth it to take advantage of that institutional knowledge...with the caveat that the PA constantly changes the rules and requirements. (Remember: they're the boss. Not to be confused with this Boss)
Food Safety. Despite being a private event, the PA requires caterers to put sneeze guards (achoo!) over food stations and submit detailed food safety plans in the application packet. Sidenote: "Sneeze Guards!" goes into the Sequence Vault as an all-time favorite email subject line.
A final SEQ Tip: Keep two bottles of bubbly on ice. One for when you submit your application packet and a second for when the packet is approved. (And maybe a third to pop after your awesome event!)
Special thanks to the following vendors who made this reception a reality: Riviera Caterers, American Furniture Rental, Burst Visuals, Illuminaria, Broadway Party Rentals, Unlimited Visibility, Inc., World Stage, Flemington Carpet, and photographer Christian Rodriguez.
[soliloquy id="5274"]