---
This New Year's Eve when the clock strikes midnight the sparkles will shine brighter, the champagne will flow faster and it will be 2020 (how is that possible?!). It's not every day -- er, year -- you get to welcome in a new decade with the perfect theme. We're excited to create as many prohibition glitz and glam, Gatsby-style holiday bashes as possible, so of course we're already mood boarding. Check out our five favorite ways to add modern moments that'll help your Roaring 20's holiday party stand out from the glitter.
1. LED Lit Entrance Hall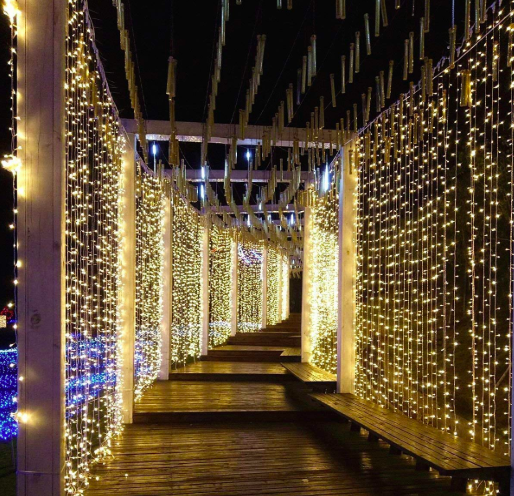 Your entrance moment is your event's first touchpoint, so make it count! Stringing LED lights up and down the event entrance is a great way to give guests a glimpse of the grandiosity that's to come at your 20's bash. An entrance moment like this one also proves to be super instagrammable, so don't be surprised when your feed is filled with excited guests and twinkling lights.
2. Modern Gold Accents
Gold is a go-to when planning a Gatsby-style event, but oversized gilded decor will bring it to the next level. You want your event to shine from head to toe, so a gold balloon "chandelier" like the one depicted above could create that "wow" moment, without breaking your budget. Continue to work gold elements and accents throughout your decor, even in the most subtle of ways, to create a cohesive feel for event guests.
3. Branded Flip Disc Display
Glitz and Glam can translate to a more modern (and engaging) moment with these captivating flip disc displays. Here's how they work: when your guest walks in front of the display, the thousands of magnetic disks attached to the board flip around to mirror a black and white image of the person standing in front of it. In addition to helping your decor make a statement and providing an interactive moment for your guests, these flip disc displays also allow for a seamless branding moment by allowing the image of your guest to be overlayed over your brand's name, logo or whatever else you could want!
4. Pyro - Sparkular Firework Simulator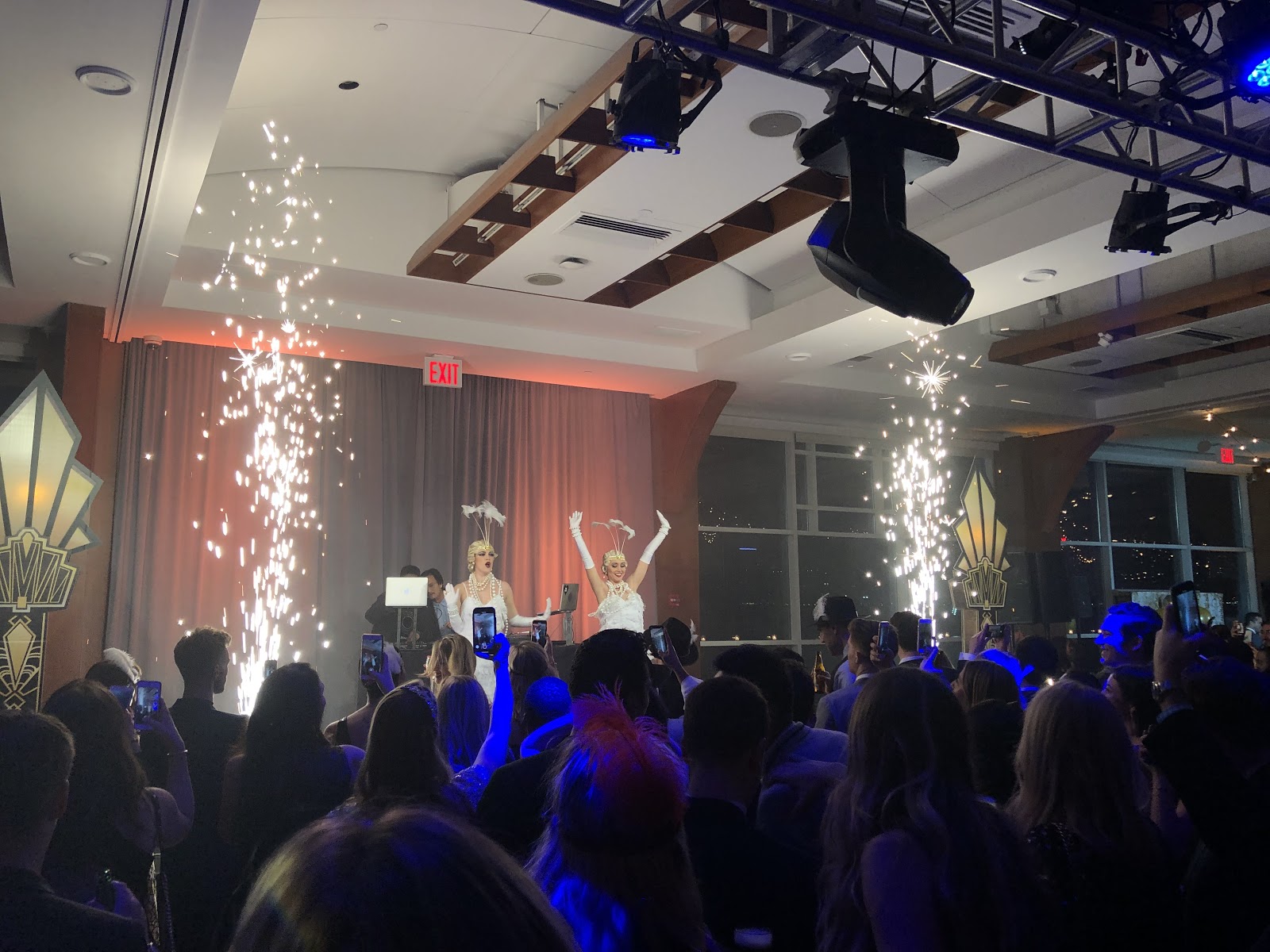 We definitely didn't forget the grand finale moment that every Gatsby party should have. Regular fireworks can be expensive and come with a laundry list of safety concerns, so consider using Sparkulars to achieve that same over-the-top experience without the worries. Sparkulars are completely safe for indoor use, cause nearly no smoke and your guests will go wild. Trust us, there's nothing like a pyro display to up the energy on the dance floor!
5. Custom engraved Don Julio 1942 Tequila bottles
Nothing screams luxury like a custom Don Julio 1942 Tequila bottle, making it the perfect Roaring 20's giveaway. Though this isn't the most budget-friendly giveaway option, it is an incredibly impactful gift for guests. Many guests will keep the bottle as a reminder of the amazing experience they had ringing in the second coming of the Roaring 20's with you and your team!
Ready to start planning your 'Welcome to 2020! Roaring 20's Party', or want other theme and design ideas? Reach out to us today!