---
Event Inspiration from The MUSEUM OF ICE CREAM

I was delighted to scoop up the hottest ticket in town to the place with the coolest treats: The Museum of Ice Cream. Move over Hamilton Broadway, the pop-up installation in Manhattan's Meatpacking District which celebrates America's favorite frozen dessert sold out its limited run within 5 days. The Museum's founders translated their passion for ice cream into a live experience that bridges art and technology in a playful way. Throughout their journey, guests encounter a series of galleries dedicated to each element of an ice cream sundae: a swimming pool of sprinkles, an aromatic chocolate room, a cone exhibit, and the scoop room, where you can try your hand at making "The World's Largest Ice Cream Sundae."
But what can we as event producers take from this edible, interactive, and highly Instagram-able visit and apply to our work?
Sweet Lessons from The Museum of Ice Cream:
Make Social Media Sharing Easy! If you'd like your guests to do marketing legwork on your behalf, make their event memories easily shareable. At the Museum of Ice Cream, visitors are greeted with an ice cream treat (Yes, this is a real place) and invited to pose for an ice cream photo shoot. The product? A fun gif texted instantaneously to the designated cell phone. This is only the first stop in a series of highly photographable moments throughout the Museum, which seem designed for social media envy. An ice cream scoop seesaw, an ice cream sandwich swing set, and who can forget the giant swimming pool of rainbow sprinkles? If your friends could see you now…well, look, they can!
Don't skimp on friendly, directional ambassadors From seamless iPad check-in to my final soft-serve cone in the tasting room, I was welcomed into each Museum zone by upbeat, knowledgeable staff. Not only were these ice cream ambassadors conveying information about the various exhibits, they were also ensuring that no activity queue in the packed museum became unwieldy, keeping guests engaged and undeterred by lines. I was impressed that the more popular moments (again, that sprinkle swimming pool) didn't become elbow-throwing, line-cutting mayhem. I guess we New Yorkers can play nice in the sandbox, er sprinklebox after all. But with gentle supervision.
Think outside the box to find the right partners – It was delightful to see how many different New York ice cream shops had joined forces with the museum to offer a week of their signature scoops (Black Tap, Good Humor, and Blue Marble to name a few), but fun to also see a non-traditional partner, the dating app, Tinder. Tinder sponsored an interactive exhibit called Tinder Land where visitors could discover their "flavor match" with a custom app, amid the "ultimate first date setting" where lovebirds could swing together on an ice cream sandwich. Many of our clients are challenged finding the right partners to bring their events to life. This was a lovely reminder that sometimes synergies come from unexpected places, so think hard when coming up with your perfect sponsor match.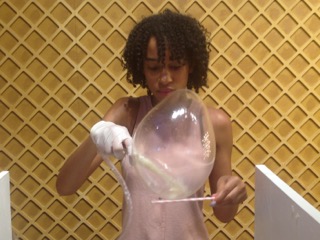 Museum of Ice Cream, now through September, 100 Gansevoort Street, NYC. Tickets are sold out but can be found on third-party ticketing sites like Stub Hub. Additional tickets will be announced to subscribers of the Museum's free newsletter: http://www.museumoficecream.com