---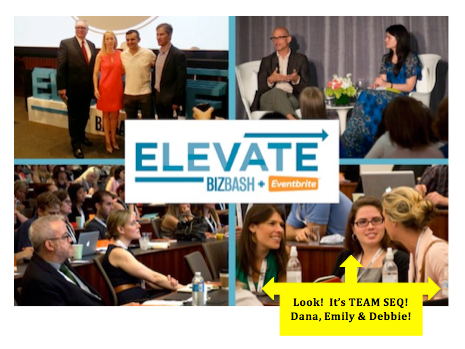 Editors Note: Today's post is brought to you by our intern-extraordinaire Emily Walker. Emily has been on fire this summer, always a few steps ahead of us and able to proactively make office life at SEQ that much easier. From obsessively organizing our event materials, mastering excel spreadsheets with ease, processing research projects in a speedy (but thorough) fashion and accompanying us on client meetings - it would certainly appear that we don't oversee coffee runners here! Emily's last day is this Friday, and we couldn't be more sad to see her go! However, with only one semester left until her big graduation day - we know it won't be long before we see her again! Best of luck Emily - thanks for being such a rock star!
[Air Heart] Team SEQ
Last week, Team SEQ went to ELEVATE, a one-day conference about technology, social media, and marketing for events (brought to us by BizBash and Eventbrite – thanks guys!). The day was filled with tons of different speakers who gave AMAZING insight on social media and events. The funny thing was, there was one phrase that kept popping up over and over again, no matter who was speaking: "Tell the story"
Such a simple (and obvious) concept, but as we all know - it can be incredibly difficult to implement. As planners, it's our job to "tell the story" with each event. Duh! But what happens when we hit a roadblock in the creative process? Here are three (of the many amazing) tips we learned at Elevate that can help reignite the creative flame and provide for a more open-minded, unconventional and practical solution to tell your clients' stories:
Decorating vs. Conceptual Ideas – flowers are not always the answer. When figuring out design for an event, don't just go with what you have done before and what might be suitable and expected. Think about the story you're telling at that event. Start by going crazy and thinking so far outside of the box it seems insane -this is exactly where the magic happens. (SEQ sidenote: Some of our BEST ideas come from brainstorming sessions that allow us to believe we just won the lotto. Go big or go home as we say!)
Choose the Best Channel of Communication – If you wouldn't actually read the e-blast you're about to send, don't expect that others will too. Same goes with advertising your event through constant e-vites, facebook posts, Times Square billboards, carrier pigeons – you name it. Know your audience and tell the story in a way that they will surely notice and listen.
Make it Short & Sweet – In today's noisy world, people barely have time to read a tweet! Even if they are paying attention, they probably have their TV, iPad and iPod all on at the same time (I'm listening to music as I write this and have already checked my email twice - hey! I'm multitasking-- right?). If you want the story to be heard, you have to grab your audience's attention in the first glance and get to the point before they move onto the next thing.
What have been your best, craziest, out-of-the-box "tell the story" moments? Doesn't matter when it occurred during the planning process- before/during/after a recent event -- spill the beans!