---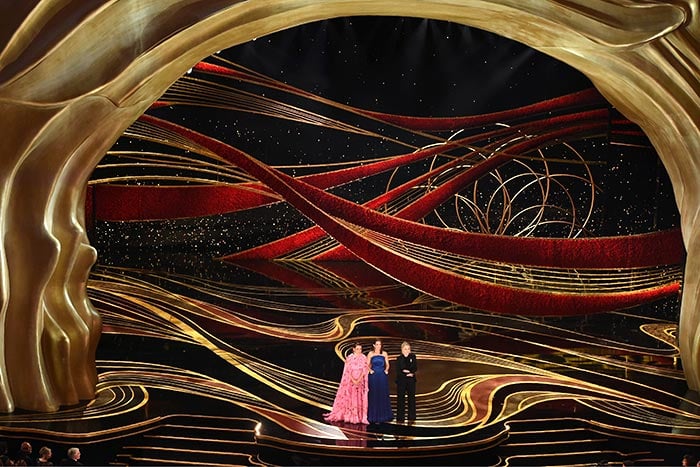 Image: Valerie Macon/AFP/Getty Images
Last Monday morning our very own Liz Carroll gave the 2019 Oscars an "A" grade in BizBash's roundup, applauding the results of the show going hostless for the first time in thirty years. Liz's commentary inspired us to dig deeper into the topic and weigh in on whether this could signal the beginning of a new era for award shows.
Hosting the Oscars has always been an intimidating assignment, and as Anne Hathaway and James Franco's disastrous 2011 run proved, it's not an easy job to pull off. In 2019 hosting has become a tricky balancing act. Hosts must honor the prestige and pageantry of the storied award show, keep a notoriously long telecast moving at a good pace, and most crucially, be entertaining enough to hold the interest of a younger and increasingly digitally-focused audience.
These younger viewers are more geared toward the heartfelt, inspiring, and meme-able moments like Black Panther's production designer Hannah Beachler's acceptance speech and Spike Lee's jubilant reaction to his first-time win. In order to let these moments happen organically, the brisk presenter-award format works from a flow perspective. It kept this year's Oscars broadcast free from the unnecessary intrusion of irrelevant montages or tired monologues re-hashing obvious jokes about the nominated films. Allowing the winners to have their well-deserved moment in the spotlight re-focused the show on celebrating the inspirational magic of the movie business.
As Liz mentioned in her BizBash commentary, Maya Rudolph, Tina Fey, and Amy Poehler blessed us with their divine comedic presence, and calls begging them to take over hosting duties inevitably followed. But do we really need the same faces popping up after every commercial break? We would argue that varied, well-liked celebrity presenters doing fresh 90-second "bits," (like Melissa McCarthy's Beanie Baby puppetry or Dana Carvey & Mike Myers' brief Wayne's World reunion) injected liveliness throughout the show without weighing down the production.
Without a host, the show still ran 15 minutes long, which is another argument for keeping it streamlined and simple. With Variety reporting a 12% increase in viewers over last year's telecast (and a 13% bump in the key 18-49 demographic), it seems like the no-host gamble paid off for The Academy. Could this be the beginning of The Oscars for a new generation? We'll just have to wait and see.