---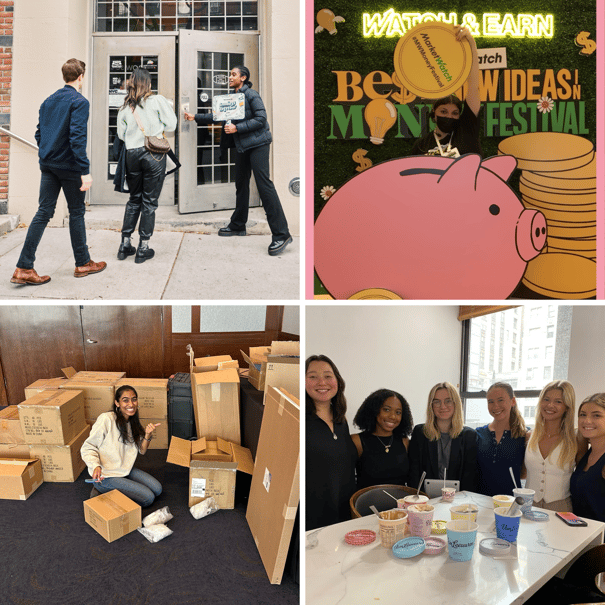 The Thanksgiving season always allows us reflect on the things we're most grateful for—and at Sequence, much of that is centered on our incredible team. And that includes our interns, both current and former!
Here at SEQ, we believe that interns are far more than just temporary team members: They're the fresh eyes that challenge conventional wisdom, the energetic spirits that invigorate our work environment and remind us why we got started in this industry, and the ambitious minds that drive innovation forward.
We are profoundly thankful for the determination and dedication our interns have shown over the years—so for this special Thanksgiving blog post, we wanted to shine the spotlight on some of our former interns and the amazing work they're doing today. Get to know some of these using heroes, below.
Emily Stratman
Emily interned at SEQ in the fall of 2017 during her senior year at the University of North Carolina School of the Arts, where she studied Stage Management. She's now the Project Manager of the Communications Department for the Multnomah Athletic Club in Portland, Oregon.
What first drew you to SEQ? "This semester-long internship fulfilled my course requirements for university and enabled me to get hands-on experience in the world of special events, a space that has always been a passion of mine. I believe that I was one of the first [dedicated Technical Production] interns that SEQ had ever had as a part of the organization, and it was such a fun experience to be a part of!"
How has the internship helped in your current role? "My internship with SEQ helped open my eyes to the world of corporate work, and gave me a really strong foundation for my work ethic and how I relate to others on tight deadlines and long hours. It showed me the importance of bringing fun to the workplace."
What's a favorite memory from your time at SEQ? "HSMAI! I worked with SEQ following my internship as a freelancer and had the opportunity to work on the annual HSMAI event twice. This event was a standout due to the variety of moving parts that go into it and the integration of SEQ's event management with HSMAI's needs for exceptional video content. This event gave me a new appreciation for the deep relationship-building that is a pillar of the work that SEQ does and the amazing freelancers that SEQ employs outside of the core team."
What are you most thankful for? "I am most thankful for the people I was able to meet through my internship and the relationships that I was able to build. My time in New York, learning about corporate events and how to execute high-end experiences, will always shape my lens as I move through my career—and for that, I am deeply grateful."
Alissa Bolbat
Alissa interned at SEQ in 2021, during the fall semester of her senior year at the Fashion Institute of Technology. After graduating with a Bachelor's Degree in Advertising and Marketing Communications—with minors in Design Thinking, Psych, and Econ—she joined the SEQ team full-time as a Creative Coordinator.
What first drew you to SEQ? "My focus in school was working through how to effectively engage different audiences, so the creative internship was a natural fit for my love of strategy and design."
How has the internship helped in your current role? "I was the first-ever creative intern, then the first assistant, and now the first coordinator for the creative department! My experience working full time versus as an intern is similar in this sense—much of it is or was uncharted territory, where there isn't a precedent for me to follow. I get to set that precedent instead, which is exciting!
Transitioning to full-time feels much more natural after an internship. I already knew my team, so I came in full-time with some understanding of how to effectively work with them. This would have involved a larger learning curve had I not interned at SEQ."
What's a favorite memory from your time at SEQ? "My favorite moments are when I get to connect with my colleagues. One of Sequence's greatest strengths is the team, so creating the connections with everyone keeps me engaged!"
What are you most thankful for? "I'm thankful that [chief creative officer] Lizz Torgovnick took the jump and hired me! I remember she was running a department of one when I joined and she didn't know if she'd have anything to share with me, let alone have time to share it! I was able to dive right in with her, and the entire experience was worth every second."
Gabriela Kramer
Gabriela interned at SEQ in the spring of 2018 while studying for her Bachelor's Degree in Hospitality and Event Management. She's currently an Event Marketing Manager at Dotdash Meredith, where she primarily works on Food & Wine magazine's annual event—the Food & Wine Classic in Aspen—as well as other Food & Wine brand events.
What first drew you to SEQ? "I needed to complete a three-month mandatory internship before graduation. I knew I wanted to go into events and experiential marketing, and at the time I was studying in Chicago and couldn't find any internships in the field. I expanded my search to other cities and came across Sequence's website. After looking at the website and social media, I immediately knew that was the perfect internship for me!"
How has the internship helped in your current role? "My internship at Sequence was my first experience 'in the real world' of events. It helped me immensely to be immersed in all kinds of events, from corporate and employee events to fun and creative experiential activations. Being exposed to different kinds of events helped me learn what I enjoyed working on and what niche I wanted to go into in the future. I had a great opportunity to continue working with Sequence as a project assistant for a year after my internship, and it was a wonderful experience that has helped me so much in my career."
What's a favorite memory from your time at SEQ? "I think one of my favorite memories as an intern at Sequence was the very first event I helped with: the Women's Bond Club event at the American Museum of Natural History. I felt like I was living a real Night at the Museum experience. When I walked into the room where the event was being held, and all the tables were set up under the huge famous blue whale, I could not believe this was real life and that I was working on this event!"
What are you most thankful for? "I've had so many great memories at Sequence and made friends that I still hold close to this day. My internship helped me step out of my comfort zone, and it gave me invaluable experiences and skills that have helped me in my career ever since. I'm so thankful for my time at Sequence, and continue to be amazed by the incredible experiences that team SEQ brings to life!"
Jackie Sutter
Jackie interned at SEQ in the fall of 2022 while studying Communications at the University of Albany. After graduation, she joined the team full-time as an Event Assistant.
What first drew you to SEQ? "I had my first event production internship working at the University at Albany's Student Association in their programming department. Throughout that internship, I planned small recreational events for the student body, [plus] concerts and our annual music festival at the end of the year. I knew nothing about event production at the start of that internship—but by the end, I was fully intrigued. My major did not influence my path per se, but my newfound passion and determination to learn more did! During my time in college, I gained two more internships as an event production intern. I then graduated to freelancing for a local event planner, acting as an onsite event coordinator. Once I graduated from college, I applied to Sequence Events' event assistant job listing—and the rest is history!"
How has the internship helped in your current role? "The SEQ internship almost acts as a trial phase of what to expect as an event assistant, while giving you the freedom to dabble in different areas of the company to learn and determine what you're interested in. During my internship, I would reach out to different producers to ask if I could assist with tasks or sit in on any meetings—anything I could do to not only learn more, but learn from different types of leaders. Once I moved to full-time, I had worked alongside almost every person at the company and I had a great understanding of the progression of projects from kickoff to execution, and how the team worked together to get there."
What's a favorite memory from your time at SEQ? "As an event assistant, my favorite project has definitely been working in Berkeley, Calif., for Thumbtack's H1 TT Connect event! The team camaraderie at that event was unmatched as we worked all week (and many months of planning prior!) to put together a spectacular event!"
Any memorable advice you've gotten? "Anything can happen during events, especially on event day. It's easy to feel stress and pressure when mishaps happen. The best advice I got was, 'In events, there is always a solution.' It may not sound like much, but that sentiment always puts my mind at ease. When you prep well, you plan for mishaps. There's always someone you can call, a team member with more expertise you can lean on for support, or a backup plan to roll out—so don't panic! As you gain more experience and learn from mistakes, finding these solutions becomes second nature."
What are you most thankful for? "I am so thankful for the people at Sequence! I would not be where I am now professionally without my teammates welcoming me with open arms and selflessly taking the time to teach me about the industry."
Jody Bogner
Jody interned at SEQ in the fall of 2020, during the COVID pandemic, while studying at the University of North Carolina School of Arts. Today, she's touring with the first national tour of Mrs. Doubtfire as a Props Assistant.
What first drew you to SEQ? "I was a stage manager at the University of North Carolina's School of the Arts, and a professor recommended it to me."
How has the internship helped in your current role? "Sequence helped me build my professional communication skills."
What's a favorite memory from your time at SEQ? "As a virtual technical production intern, it was really fun working on some of the original digital events with all the new software."
What are you most thankful for? "I'm thankful for the opportunity to work on projects during a very difficult time in the world."
Lily Waldron
Lily interned at SEQ in the spring of 2021 while getting her BFA in Acting from Ithaca College. Today, she works for the team full-time as an Associate Producer.
What first drew you to SEQ? "Prior to the internship, I freelance coordinated a few events (especially weddings) and worked heavily in hospitality (mainly restaurants bartending, serving, and managing)."
How has the internship helped in your current role? "The SEQ internship was like dipping your toe in the water of both the SEQ company culture and event work! You're thrown into the work full force, but with the safety net of those around you. Having this basis of how the company functions and their expectations of your work (and work-life balance) from the internship set me up for success in my full-time position."
What's a favorite memory from your time at SEQ? "As an intern, I was placed on the first WSJ drive-in event. On the day of the event, many of those in SEQ leadership showed up, not just to see the event and provide oversight, but to dive in themselves and help out! Seeing leadership participate so avidly in the success of the event, and treat me as if I was a full team member even though I was an intern at the time, was reassuring and made a lasting impression."
What are you most thankful for? "Being given a myriad of different projects to work on, so I was able to experience a few different events and kinds of event work. It gave me a better understanding of the path I wanted to take in this industry and what I enjoyed the most."