---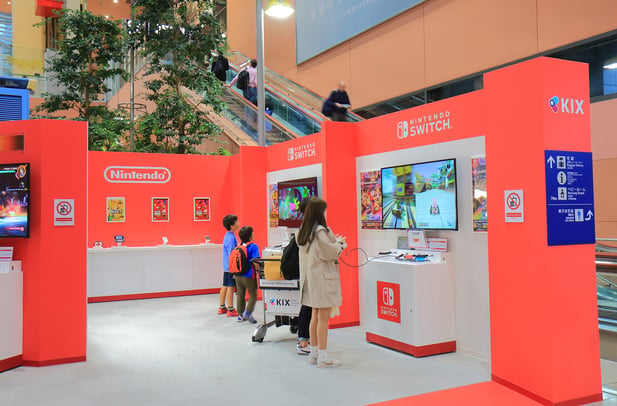 At Sequence, we love hitting the road. When the weather's nice and the sun's shining, a little bit of travel can be just the thing. Of course, combining travel and our other great love, event production, can be tricky, which is why when a brand manages to do just that — well, that's the perfect recipe for a brand crush! There's nothing we love more than bringing people together to enjoy a shared experience. That's why we've got a serious brand crush on the most famous name in video games, Nintendo. To promote the new Nintendo Switch – OLED Model, an enhanced version of their popular mobile gaming system, Nintendo is hosting a summer-long road trip event series that's hitting up nine different cities throughout the country!
It's a truly cross-country experience, landing in Chicago, San Diego, Los Angeles, Seattle and more! On a strategic level, getting audiences up close and personal with Nintendo's latest Switch model just makes sense. With sharper, bolder colors, the Nintendo Switch – OLED Model boasts visuals that are even more true to life, which is why hosting an in-person event that brings the biggest joy of video games — playing together — to life is a no-brainer. In other words, we're crushing on Nintendo because they're going all in on interactivity, togetherness, playfulness, and joy. By making gaming more mobile and connected than ever before, Nintendo's found a way to center community while sharing in the gaming experience.
Because it's Nintendo, the events are designed with all ages in mind — in other words, attendees can expect plenty of family-friendly fun! At the heart of the event experience is the opportunity to play some of the Nintendo Switch's most exciting new titles, including Nintendo Switch Sports, Kirby and the Forgotten Land, and Mario Strikers: Battle League. Sports take center stage in the offerings — it's a summertime event, after all — though there's still room for one of Nintendo's most iconic characters, Kirby, the shapeshifting pink puffball, to make an appearance. At Sequence, we love when legacy brands know how to tap into their history while keeping things fresh — in other words, taking Kirby on the road is a road trip we can get behind!
But it's not just about the games. At Sequence, we know that interactivity is where it's at, and finding ways to make in-person events feel immersive is a great way to focus an event's energy, especially for brands with a more, well, virtual presence. Nintendo's Road Trip experience takes things to the next level with gorgeous, colorful décor that showcases their vibrant characters and environments. If your kid has ever wondered what it would be like to be inside their favorite video game, this is basically the next best thing, providing the perfect opportunity for an awesome photo shoot your family will remember for a long time after. And of course, it wouldn't be the perfect event without some cool take-aways. As you know, Team SEQ is crazy about SWAG, so we're pumped that Nintendo's attendees will get the chance to take home some iconic Nintendo SWAG like a Nintendo Switch carrying case and a pro controller!
Team SEQ has tons of experience when it comes to creating exciting, memorable, and unique experiences that provide a sense of connection and community, so it's not surprising that Nintendo's commitment to making summer a little more exciting has caught our eye yet again
Hey Nintendo, let's connect. We'd love to work with you!