---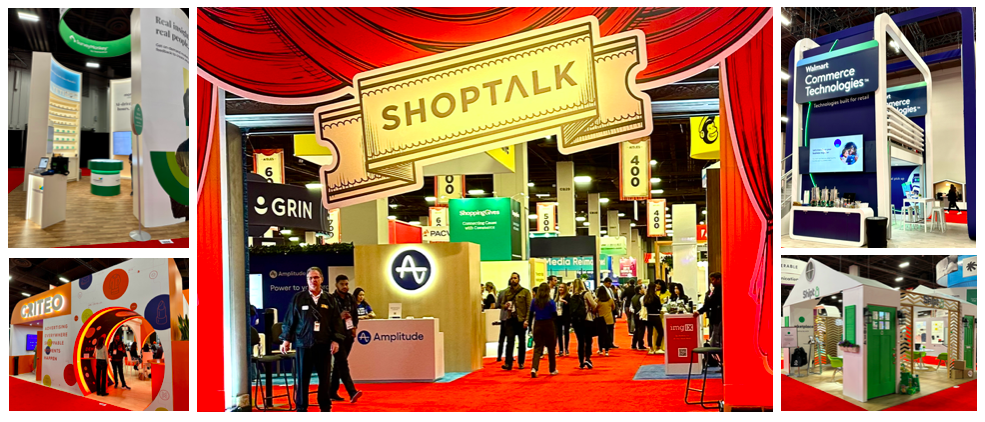 Shoptalk 2022 was a celebration of being back together in-person. The excitement in the air was undeniable as guests reunited after two long years of not seeing each other. I wasn't sure what to expect heading into Shoptalk 2023 given the current economic climate, the regional banking challenges, and the continuation of layoffs we are seeing in the technology industry.
Here are some highlights:
While the energy and attendance were not compromised, some booths had a smaller footprint this year. This did not result in sacrificed creativity or innovation, however. Booth designs and activations were as creative as ever, just a little smaller in some cases.





On the other hand, it was great to see new booth presentations from companies such as Walmart Connect, Walmart Marketplace, TikTok (a larger booth with live creator production on-site), and Momentive.





A common theme was the evolving strategy to focus more on targeted audiences. Some companies bypassed traditional booths and set up suites instead, enabling more productive meetings and conversations with top customers and targeted prospects vs trying to reach everyone with a wider net.





AI continues to be a hot topic and was discussed throughout the show. Experts are looking at how AI can continue to improve efficiencies and increase personalization of the shopping experience and customer journey.





The amount of swag seemed to be downscaled. This may have been due to smaller budgets, but as a result, it certainly supported sustainability efforts.





We all seem to be in agreement that consumers EXPECT engaging experiences when shopping in retail stores, as well as when shopping online. Interesting and creative brand engagement is REQUIRED in order to gain consumers' attention.
Shoptalk has turned into one of my favorite trade shows. While the Sequence Team was on-site to produce a client booth, it provided me with the opportunity to connect with clients and friends and to see the incredible innovation that continues to power commerce. Shoptalk 2023 certainly did not disappoint, and I'm excited to see what's in store for 2024!