---
With our SEQ headquarters right on the outskirts of Bryant Park, we found ourselves counting down the days until the Bryant Park Holiday Market opened for business. Since then, we've caught ourselves taste testing everything - for research purposes of course. From these tasty outings, we've gathered our 5 favorite event-ready food activations for your next event.
They say cheese is addictive, and that might be why Baked Cheese Haus hit the top of our list. This place literally melts the cheese onto your sandwich in front of you. They slide a long knife along a gooey half-wheel of raclette cheese to make your cheese loving dreams come true. These would be a great action station for a lunch event where sandwiches are a go-to, or a standing meal or reception. This on-the-go meal will be sure to add a delicious and Instagrammable moment to your next event.
This Brooklyn based bakery can bring the fun of a baking show right to your event. For intimate groups of around 100 or less, you can setup a live demo in your event space. During the demo, one of their expert bakers will walk your guests through the baking process, then provide samples for everyone to try! You can try anything from the giant marshmallow s'mores in the photo above, to strawberry Nutella cookies or Funfetti Ring Dings.
3. Doughnuttery
We love the idea of using these Doughnuttery mini donuts as a passed dessert or farewell treat! These sugared donuts can be sprinkled with a ton of different flavor options - both savory and sweet - and they're all delicious! (Yes, we tried them ALL.) As you can see in the photo above, the layout of the donuts can spell your company name, the name of your event, or whatever it is you're celebrating. This creates an extra photo moment and donut experience. If you're looking for even more customization, you can opt for a colored drizzle and some branded packaging to make for a stand-out dessert pop!
Arancini Bros is the only arancini specialist based in NYC, so this idea checks boxes for delicious and distinct. These classic Sicilian, melt-in-your-mouth, deep-fried rice balls are sure to be a fan favorite at your next event. They come with a variety of fillings for your fish-loving, meat-loving and veggie-loving guests. Arancini are meant to be eaten with your hands, so they're a perfect passed app or standing cocktail hour hors d'oeuvre.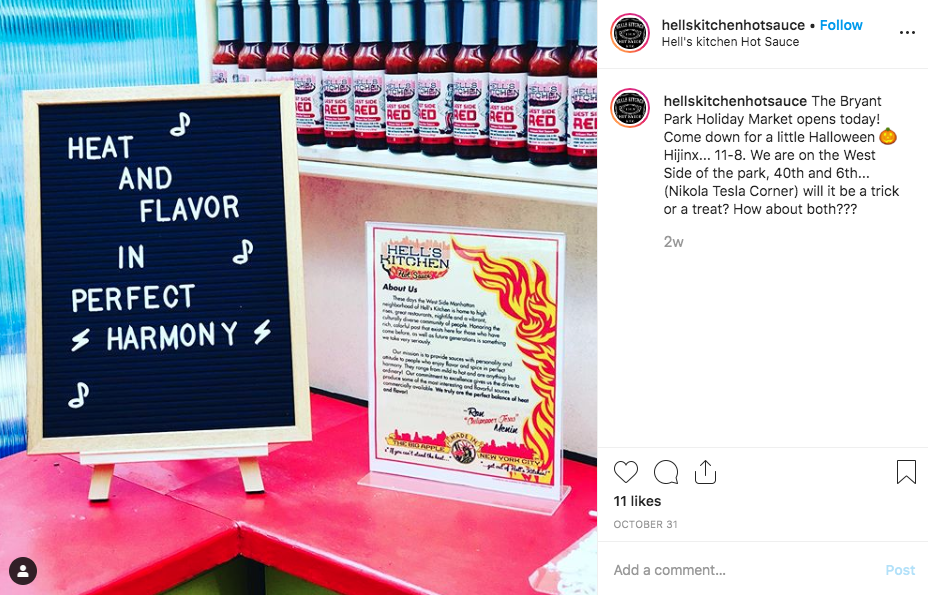 A Hell's Kitchen Hot Sauce tasting is sure to spice up your next event! Whether the tasting is done Sean Evans style (check it out if you don't know what we're talking about) or is nothing more than a variety of dipping sauces for your meal saucier is always better. These delicious New York based hot sauce makers pride themselves on their balance between heat and flavor, which is sure to be a great addition to your guests' experience.