---
We are beyond thrilled to announce that Sequence has been recognized by Crain's as one of the "100 Best Places to Work in New York City" for 2022 – and #20 overall in the Small Business category! It has been a long-standing goal of ours to create an inclusive workplace that supports our best-in-class team, and receiving such prominent external recognition is a wonderful bonus. To see our culture continue to thrive even as the team has grown speaks to the impressiveness of each and every employee, and to the true magic of Sequence as an agency.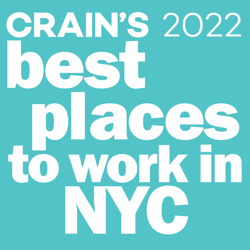 A particular source of personal pride stems from the boomerang effect of past employees who have left Sequence, only to see us reunite down the road. This year we have had two former SEQ'ers – both of whom left the company years ago – re-join us in full-time roles. One of those team members, Stef Gaertner, reflects on her Sequence reunion:
"Why did I come back? Simple answer, the people. Longer answer, the way the people I worked with made me feel, the amazing talent on the team, the creativity in the team's work, the people they chose to work with, and the values they uphold. I worked as the sole Production Assistant at Sequence 2015-2016, providing support for every event. Sequence was just starting up: a staff of 12, zero departments, long hours, but deep passion for the work. I, however, found myself in a quarter-life crisis, doubting my desire to work at such a fast pace long-term. When resigning, the CEO (Adam) told me, "Sometimes you have to figure out what you don't want to do before you figure out what you do want to do." That stuck with me over the course of my many "lives". I have been a musical theater performer, event planner, nanny, ESL teacher in Thailand, Executive Assistant, and eventually made my way into an HR role right before the pandemic. I learned about managing people and how to help employees feel supported, safe, and happy. Meanwhile, Sequence was tripling in size and developed a need for a full-time HR manager. When I was approached with the opportunity to return to an industry I love, at a company with incredible leaders, an amazing portfolio of clients, a rock star team, in a brand new role, and best of all, reporting to a former colleague whom I greatly admire, it was a no brainer. So here I am, Sequence's first Associate People and Operations Manager; strengthening the company's efforts in corporate social responsibility, recruiting and onboarding our wonderful staff, enhancing our culture and the employee experience, and rounding out Sequence's newest department (one of six now!): Operations. Do I think Sequence is one of the Best Places to Work? After working in many other places, I can definitely say it is."

- Stef Gaertner, Associate People and Operations Manager
A few other team members also weighed in on what makes Sequence a special place to work.
"Sequence offers a workplace that values people and individuality alongside the work. I was a valuable, respected team member from day one as an intern to now as a full-time employee. There is an opportunity to learn and grow, not only career-wise but as a person and team player which is not always easy to find in this industry."

- Cartwright Ayres, Technical Production Assistant

"What keeps me working here? The people! I truly feel lucky to be a part of such an amazing team and to work with such wonderful clients to do the impactful work that we all do! It's really important to feel valued where you work and I've always felt that Sequence is a company that goes the extra mile to show their appreciation for their employees' hard work. I've actually never felt more at home in my career than I do with Team SEQ!"

- Michelle Cast, Account Director

"What made me want to work at Sequence? The incredibly collaborative and engaging culture, as well as the values of the company and what they continue to accomplish with their events. Sequence prioritizes every critical detail in order to make their client's vision come alive and to create all of their experiences with purpose, and I wanted to be a part of that."

- Shawn Burger, Business Development Coordinator (Just employed!)

"What's unique about here? Sequence is the first company I have worked for that truly walks the walk when it comes to employee well-being. It's not just pizza parties and happy hours (altho we have those too)! It's the flexible vacation policy, transparent and frequent promotion schedule, thoughtful project staffing, and authentic 1:1 check in's from leadership that make working here enjoyable, rewarding, and sustainable.

- Elaine Tripoulas, Creative Manager