---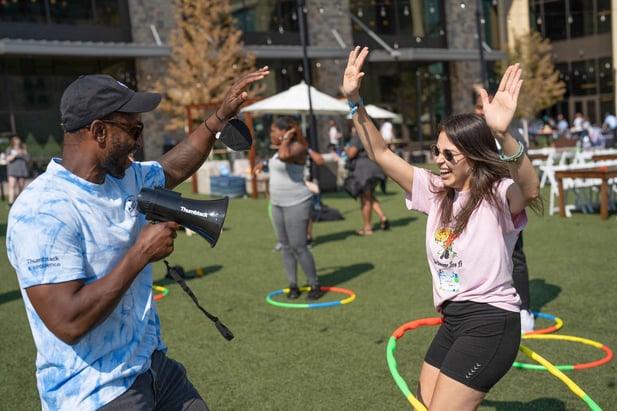 If you're anything like us, you've loved the return to in-person events — but your social skills might still be feeling a bit rusty. Well, the same goes for your attendees. As we know, live events have a renewed focus on community and connection these days, but it's not enough to just put your guests in a room and hope they strike up a conversation.

Instead, take some strategic steps to help your attendees get the most out of those valuable, face-to-face connections that only come in person. Here are some tips for making everyone — even the more introverted personalities — feel connected at your next event.

1. Start the conversations before the event even begins.
Depending on the type of event, it may be possible to get guests interacting and networking beforehand through things like social media hashtags, Instagram Live broadcasts, or other social platforms. An added bonus? This doubles as a way to build anticipation.

For Camp Thumbtack, for example — an internal event Sequence produced for the tech company's employees — we generated excitement ahead of time with a dedicated Slack channel where attendees could crowdsource their questions and share what they were looking forward to.


2. Use icebreakers, nametags, and other conversation-starters to find common interests.
Encourage your guests to share a bit about their personalities, whether that's through interactive, bonding-focused activities or even conversation-sparking nametags. Consider adding fun, customizable details to nametags, like prompting guests to share their passions or fields of expertise — like TED's simple but effective "Talk to Me About…" buttons.

As for icebreakers and other activities, always make it a point to accommodate different personality types. At Camp Thumbtack, for example, our attendees could choose between a variety of activities that spoke to their interests, physical capabilities, and comfort levels; options ranged from dance classes and kickball to tie-dye stations and tarot reading. After all, guests who are in their comfort zones are more likely to feel comfortable opening up to their fellow attendees.


These bonding activities can also be tied back into an event's mission. At the virtual creator meetups Sequence produced for TikTok, for example, we customized unique games based on TikTok trends — including "Two Truths & a Lie" and a TikTok twist on Pictionary.


3. Put your team to work on site.
The event staff can do a lot to encourage interaction on site, both by serving as greeters and by keeping an eye out for anyone who might not know a lot of people. Train your staff to step in and make introductions when appropriate. If your event has breakout sessions or activities, the same concept applies; moderators should ensure that everyone is having a chance to speak and share a bit of who they are.

For the TikTok event, for instance, Sequence assembled a full team of professional stage managers as our "Getaway Guides," who could lead the games and ensure that each guest was getting a chance to participate.


4. Lean into tech-driven matchmaking services.
Artificial intelligence-based networking services — which are easier to find and implement than ever — can be an effective way to facilitate connections at both online and on-site events. This advanced tech can quickly analyze attendees' interests and agendas, and then schedule meetings between various participants. Personally, we're keeping an eye on matchmaking tech from companies like Brella, Swapcard, and Grip, among others.

5. Break people into smaller groups whenever possible.
Large groups can be overwhelming and intimidating, and encourage attendees to gravitate toward people they already know. Break it up by leaning into small-group sessions, whether it's for group activities or educational breakouts. Particularly for more introverted personality types, breaking attendees into small groups — ideally with an experienced facilitator who can keep everyone engaged — makes everyone feel more at ease and more likely to speak up.

6. Get strategic with seating arrangements.
Depending on an event's agenda and goals, it may also be appropriate to create designated seating assignments. For internal corporate events, this may mean seating people from different departments together to get them interacting with employees they don't already know; for other types of events, groupings might make more sense based on shared interests, professions, geographical regions, etc. Ultimately, it all goes back to helping guests find those common interests that can spark meaningful conversations.


7. Offer surprise and delight moments.
What gets guests talking more than a good ol' surprise and delight moment? These unexpected elements can get guests laughing and bonding, while also encouraging social sharing. At Sequence, we love a good surprise and delight moment — like our quirky Klarna brand launch, which featured everything from a mannequin with a 20-foot arm holding shopping bags, to a "mystery bartender" station, to dessert trays attached to oversize helium balloons.