---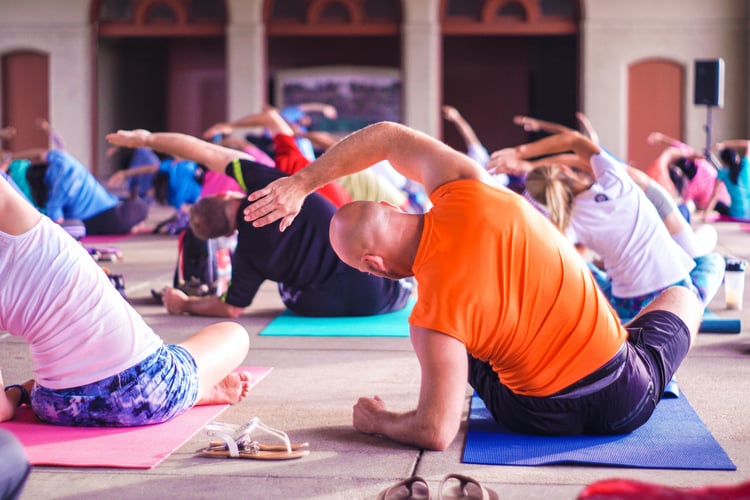 Earlier this month, the Global Wellness Summit released its annual "Future of Wellness" report, a 160-page forecast documenting the newest directions in the industry. And at the very top of the 12 trends it outlines? "The development of new spaces and experiences that bring people together in real life — creatively and with intention — where social connection is the burning center of the concept."
The fact that social connection is being seen as a crucial aspect of overall wellness is, of course, music to our ears as an experiential agency. In 2023, more and more event hosts are understanding the value of creating experiences that not only advance their business goals, but that support their attendees' physical and mental health — two things that have undoubtedly been thrust into the spotlight during the COVID-19 pandemic.
In fact, just this past November, global wellness and real estate tech company Delos teamed up with Associated Luxury Hotels International to create the Delos Wellness Accreditation for Meetings and Events. The science-backed accreditation aims to bring awareness to the value of wellness at meetings and conventions; it's a five-hour course with videos and prompts on topics like light, nourishment, and movement and mindfulness.
All of this to say: Wellness is currently trending at events and activations in a big way. Here are some ways you can get on board.
1. Consider shorter sessions with more opportunities for breaks.
Our team previously pointed out that attendees' increased desire for connection — along with shorter attention spans — is leading to some format changes at events of all types. What's trending now is shorter, TED-style content sessions, which free up the rest of the schedule for interactive moments, wellness sessions, and some all-important downtime.
Remember that your attendees (and staff) may be out of practice with long event days, and they'll surely welcome the chance to get out of their seats, whether it's for a guided wellness session, a stretch break, a meditation break or massage, or even just a chance to unwind and catch up on emails.
2. Remember that mental health is just as important as physical health.
The last few years have shined a much-needed spotlight on mental health — and it's a crucial trend to continue at events. Take a cue from Kimpton Hotels & Restaurants, which last year announced a new, first-of-its-kind partnership with online therapy company Talkspace that brings accessible mental health support to both Kimpton guests and employees.
3. Don't forget about the physical environment.
Try to consider wellness when selecting a venue, too. Are there ways to bring in more natural light, or let attendees step outdoors in between sessions? Is it easy for them to access water and other nourishment? Are there spaces where attendees can get away from the hustle and bustle and relax a bit?
Some ideas we love: Last year, the W Fort Lauderdale launched a "Sensory Reset" experience for groups, which offers a room filled with fidget spinners, ASMR videos, aromatherapy, and a selection of mints and frozen fruit. Similarly, the Overland Park Convention Center in Kansas has opened a dedicated room — created by medical professionals — that has reduced lighting and noise for conference guests who feel overstimulated.
4. Be conscious of guests' fitness and comfort levels.
If you are opting for physical wellness activities — like yoga sessions or 5K challenges — it's important to think through whether this is the right choice for your specific audience. For some groups, physical activity can certainly help teams connect and build community. For other audiences, though, that may be intimidating.
Offer wellness experiences that fit a range of attendees and ability levels. If you're offering an early-morning hike or fitness class, for example, consider also offering a meditation or mindfulness session, or some sort of lower-impact forest bathing session.
5. Don't neglect nutrition and sleep quality.
Opt for healthy snack breaks. Consider natural brain boosters such as almonds, walnuts, and flax seeds, or offer fresh fruit and herbs at water stations for immunity, antioxidant, or metabolism boosts. And for multi-day gatherings, be conscious of hosting late-night events followed by early-morning sessions that can negatively impact your guests' sleep quality.
6. Think about your attendees' work-life balance.
According to American Express's 2023 Global Meetings and Events Forecast, companies are focusing more and more on their employees' and attendees' overall wellbeing, recognizing that not everyone wants to spend their entire day sustaining a high level of activity at events. And "some organizations have implemented policies that travel should, as much as possible, not interfere with their employee's personal lives, which means avoiding booking flights on weekends," says the report.
7. Helping attendees feel the value of human connection.
With more employees working remotely, we're arguably in the midst of a loneliness epidemic. In fact, a recent Microsoft report shows that over 50% of hybrid and remote employees feel lonelier at work these days—but that building deeper relationships with their colleagues leads them to higher levels of satisfaction and creativity.
Helping attendees feel connected and engaged, both to our clients and to each other, is one of our biggest passions here at Sequence Events — and that human connection is an aspect of wellness that should never be overlooked.