---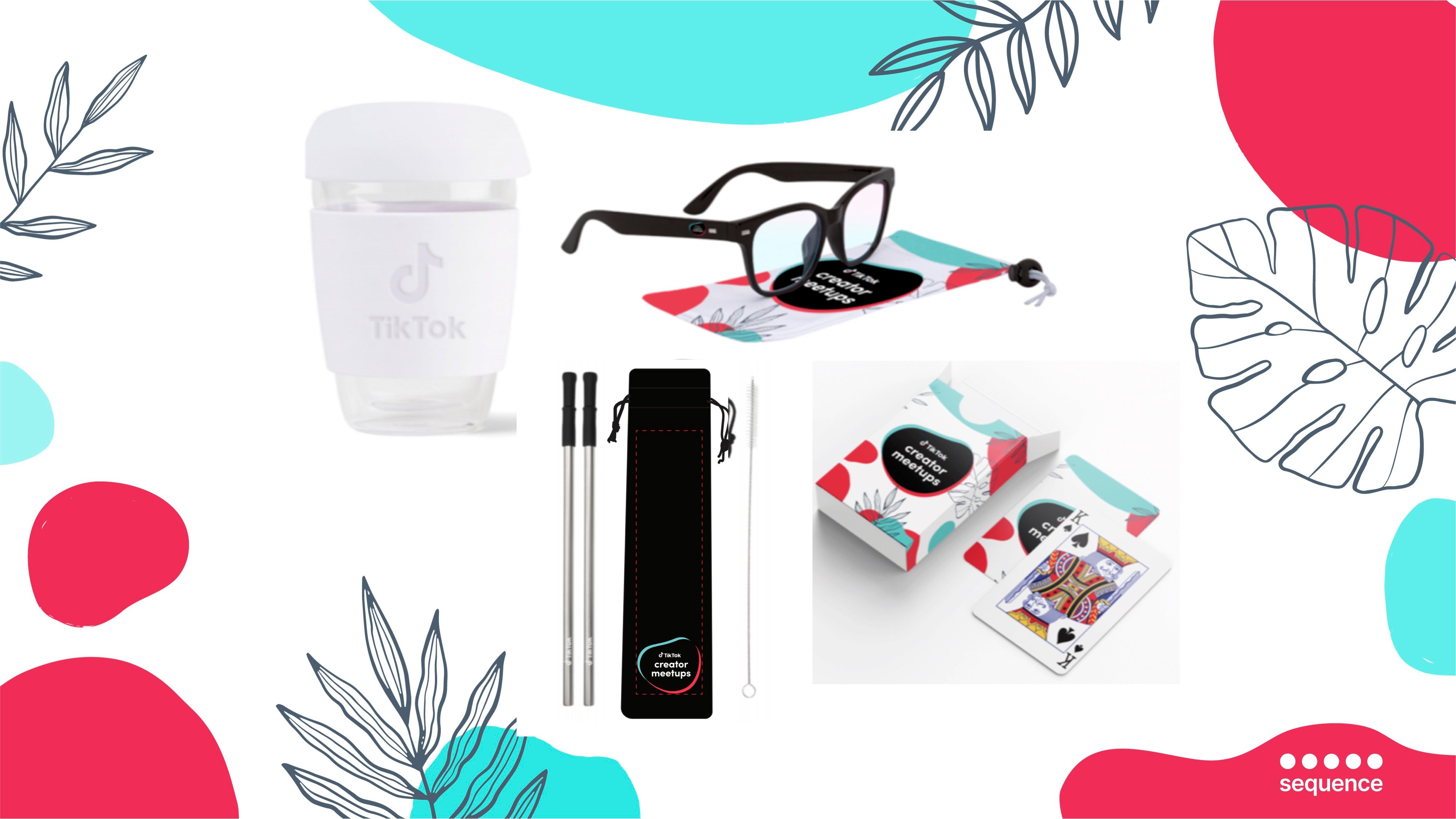 Over the past decade, experiential marketing has continued to grow in popularity, and it's no wonder why. A great experiential event offers people an exciting way to engage with their favorite brands while getting out and about. At Sequence, we've been thinking about how brands can take experiential event marketing to the next level. Why exactly? Because they bring together three of our favorite things — creative event production, audience engagement, and awesome SWAG!
As with any event, it's important to tailor the SWAG to the event's thematic concept and audience. But what SWAG fits best for experiential marketing events? Here are five tips for finding the SWAG that's best for your event:
Put the brand first.

As with any aspect of event-production, the brand and event theme come first — everything else about the event should emerge naturally from the unique identity you've created. When fintech giant Klarna asked Team SEQ to help organize their multifaceted event series, Smoooth Sessions NYC & LA, they had a clear brand mission in mind, and we made sure every aspect of the event was tied back to it, including the goodie bags, which sent attendees home branded candles, beanies, Emu brand slippers, and more!

Keep it cool and comfy. When you're organizing an experiential event, you're looking to make a splash in the moment — but keeping the conversation going afterwards is just as important. Finding ways to help attendees amplify the impact by wearing their SWAG in social content when your event's over is a great way to do that. On apps like Instagram and TikTok, fashion is consistently one of the most popular trends, so it makes sense that clothing is one of the best forms of SWAG you can give attendees. Whether it's the softest t-shirt ever invented or a branded hoodie, you can't go wrong with wearable merch.
Make a lasting impression. Photos are forever, which makes them one of the best ways to preserve a truly unique moment and experience. So why not make it even easier for guests to capture your event? Disposable or Polaroid cameras aren't just fun in the moment — they'll help document your event while creating colorful images that keep the conversation going long after the event itself is over. Giving attendees the power of the picture in your event's SWAG bag is a no-brainer in today's image-forward culture.
Aim for beauty. Depending on your brand's identity and the nature of your event, creating unique health and beauty products that say something about your chosen theme could be on point. That might mean offering a makeup set that can help attendees achieve a thematic look, or sending them home with an aromatherapy diffuser. A familiar principle applies here — if you can send attendees home with a product they'll actually use (and, fingers-crossed, post about), you've won the SWAG game.
Stick to your theme. Extending your event's thematic concept to its SWAG is a great way to create a sense of cohesion and delight. An event for an environmental non-profit, for instance, might hand out stainless steel reusable straws or water bottles. When TikTok asked for our help planning their fully immersive Virtual Creator Meetups, Team SEQ kept things chill with a picture-perfect "Getaway" theme, and even had our graphics team design an event-specific logo and unique merch boxes that tied everything together, and provided a perfect opportunity for social content creation. The result? Tons of new connections fostered in the creator community and a wealth of top-notch TikTok content.
Figuring out how to nail your SWAG game while staying on message and attuned to your key audience will always require some strategic thought and planning — which is why it's a good thing we find it so much fun! If you're wondering how to take your experiential event to the next level, Team SEQ has got you covered. Sign up for a free consultation with one of our event professionals to help guide you on your next event planning journey. We can't wait to connect!