---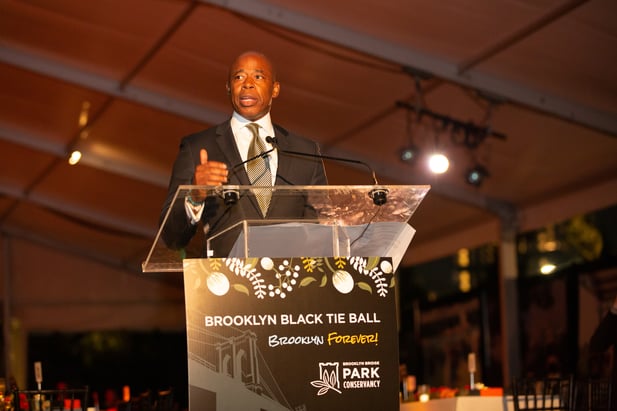 Over the years, SEQ has worked with a number of high-profile keynote speakers — ranging from politicians like Mayor Adams, Secretary Hillary Clinton and President George W. Bush; to actors and athletes like Elizabeth Banks, Busy Phillips, and Magic Johnson; to business leaders like economist Muhammed El Erian, billionaire investor Ray Dalio, and Johnson & Johnson chairman Alex Gorsky.

It's an impressive group — and each speaker has had their own protocols and idiosyncrasies. But in our many years of experience, we've learned some tricks of the trade that apply to keynote speakers of all types, whether it's a former president or an industry expert.

1. Understand your audience.
As with all things events, it all comes back to the "why." What do you want your audience to take away from this keynote? Is it about learning something new from an industry expert, or simply getting inspired by a celebrity or someone with a fascinating story to tell? Above all, remember that keynote speakers can set the tone for your event, and can be a crucial way to drive attendance and build buzz before, during, and after the gathering.

2. Think beyond celebrity names.
While SEQ is proud of our list of high-profile speakers, we also thrive on working with a great keynote speaker no one has ever heard of. Our advice? Don't always get blinded by celebrity names, and really think about who is going to best connect with your specific audience. Again, it all comes back to your main goals: If it's to drive attendance, a bigger name may be better. If it's to leave attendees with tangible advice that's truly applicable to their lives and careers, thinking outside the box may be appropriate.

3. Work with a speakers' bureau.
Whenever possible, we like to work with speakers' bureaus, who are experts at locating and booking keynotes that can fit an event's specific needs. A speakers' bureau also serves as a safety net against last-minute cancellations — an important consideration when you're working with high-profile speakers that may become unavailable on short notice due to geopolitical events or other conflicts, including illness or delayed flights. Typically, a bureau would have sales agents who are prepared for scenarios like this, and can give you options to swap in.

4. Emphasize clear communication.
Earlier this month, AAE Speakers Bureau released its Speaking Industry Benchmark Report, a survey of hundreds of event professionals, keynote speakers, and talent managers. A particularly interesting section focused on pain points: When asked about the biggest pain points of working with event organizers, speakers centered their answers around communication, citing things like not understanding who is in the audience or getting timely updates. Organizers themselves also cited the importance of communication, with 12% citing unclear communication as their single biggest challenge when working with speakers.

Open communication about mutual expectations is crucial. During the contracting stage, a keynote speaker should understand their requirements and expectations, including length of presentation, any required topics or overall goals for the talk, and attendee demographics, along with travel logistics, speaking fees, appropriate attire, additional requirements on site like meet-and-greets or media interviews, and more.

Our advice? Make it easy on speakers by having a single point of contact that they can reach for any questions or updates; that person can be charged with confirming all travel arrangements, equipment needed, call times, and more. Believe us, your speakers will thank you!

5. Fly speakers in early for rehearsal.
Practice, practice, practice! It doesn't matter how seasoned your speaker is. Everyone can benefit from a tech check and run-though to ensure things are working correctly and that everyone is aligned on the plan. When possible, we like to fly speakers in a day early to combat flight delays and leave time for a quick rehearsal to address any technical issues in advice.

6. Remember that virtual events come with some of their own rules.
While the majority of event organizers and keynote speakers prefer being in person, according to AAE Speaker Bureau, the report also notes that over 29% of events are still taking place virtually. While many of the same rules apply, there are some additional considerations, particularly surrounding technology.

At SEQ, we ask all virtual speakers to fill out an assessment so we can understand their at-home setup, level of experience in presenting virtually, and any additional equipment needs. We also schedule a more robust rehearsal and run-through, which includes content reviews, tech checks, contingency plans, and more. And on event day, we require all speakers to log in an hour pre-show for any last-minute testing, confirming the framing of the camera shot and background, testing the comms systems, and more. (Read more of our tips here.)

Here at Sequence, we're skilled at coordinating all aspects of talent and speaker management, including travel, schedules, greenroom requirements, rehearsal scheduling and management, and more. Ready to get started? Contact our team today.