---
If you've read our other brand crush blogs, you know we're suckers for brands with a unique style and voice backed by a charitable mission. This month we are highlighting the reasonably-priced designer eyewear brand, Warby Parker. The founders of Warby Parker were students at Wharton School of Business, which happens to be a client of ours, one of whom lost his glasses and couldn't afford to buy a new pair and therefore suffered through an entire semester of graduate school squinting. Crazy, right?! It was then and there that the young entrepreneurs realized there was a market to revolutionize, and that hundreds of thousands of people's lives would be made easier by reasonably priced, easy-to-acquire glasses. The two things that really make Warby Parker #brandcrush worthy are 1. The Quiz and 2. The Buy a Pair, Give a Pair program.
1. The Quiz
In the rising world of BirchBox and Rent the Runway, it was only a matter of time before someone put finding a new pair of glasses in the "I'm too busy to go to a store to try these on" category. Warby Parker created a quiz that takes you through a series of eight quick questions and leads you to personalized results. Many people love the targeted recommendations, but what Team SEQ loves most about the quiz is how it extracts necessary information while reinforcing the brand's voice and visual identity. Each question is paired with a simple-but-stylish graphic that matches their simple-but-specific questions. The answers are presented as a quirky colloquial description, making it clear to customers which option suits their needs. The cohesive visual and written brand voice help quiz-takers feel a personal touch despite navigating a digital platform.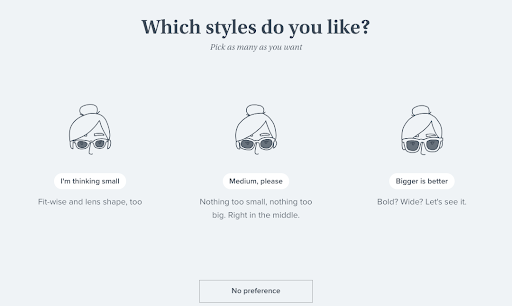 2. Buy a Pair, Give a Pair
Warby Parker not only created a geek chic brand, but they also have a charitable mission built into their business and we love the way they talk about it! Their website explains that "Alleviating the problem of impaired vision is at the heart of what we do, and with your help, our impact continues to expand."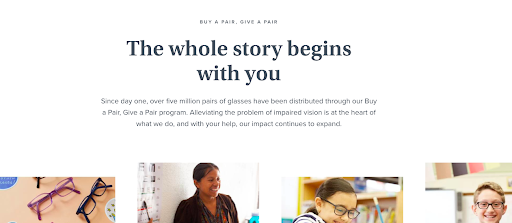 Here, they manage to work in a sales message that doesn't seem forced or disingenuous. It's true, they can only help people in need if customers buy their glasses. They're not trying to hide the fact that they need sales, but they're also not begging for them. The voice they maintain throughout the Buy a Pair, Give a Pair page helps customers feel involved in their process, connected with their mission and motivated to support them.
Hey Warby Parker, we'd love to work with you!
If you don't do events for Warby Parker, you should still subscribe to our blog and keep reading about more of the exciting brands we've fallen in love with.