---
At SEQ, we love to think outside the box. It's something we did literally this past spring for the parcelLab booth at Shoptalk in Las Vegas! Our third booth design for the software company cleverly played on the phrase "outside the box," pulling in puzzles, shapes, and pops of color to give the booth a welcoming and modern feel. parcelLab's primary goal was to build awareness, and our design accomplished just that with both an immersive layout and strong graphic support.
At trade shows, when we're so often working with a square, 10-by-10 footprint that looks just like everyone else's space, it's crucial to find ways to stand out. Here are some key things we focus on to make a big impact.
1. A clear "why"
Like everything else we do at SEQ, when we're designing a trade show booth we start by analyzing the target audience and the goals for our booth. We lean into our comprehensive discovery process to ensure we fully understand the brand we're working with, along with its mission and goals for its trade show presence. We also gain a well-rounded view of their target customers, trying to get inside their minds and think about what they're trying to accomplish on a trade show floor and what's going to resonate with them.
2. A design that will stand out
Great design is a trend that will never go away! Playing with color schemes can be an effective way to stand out on the show floor, along with engaging multiple senses through sound, lighting, and even scent. And don't forget shape and height! We're particularly proud of the eye-catching, double-decker booth we created for AppsFlyer.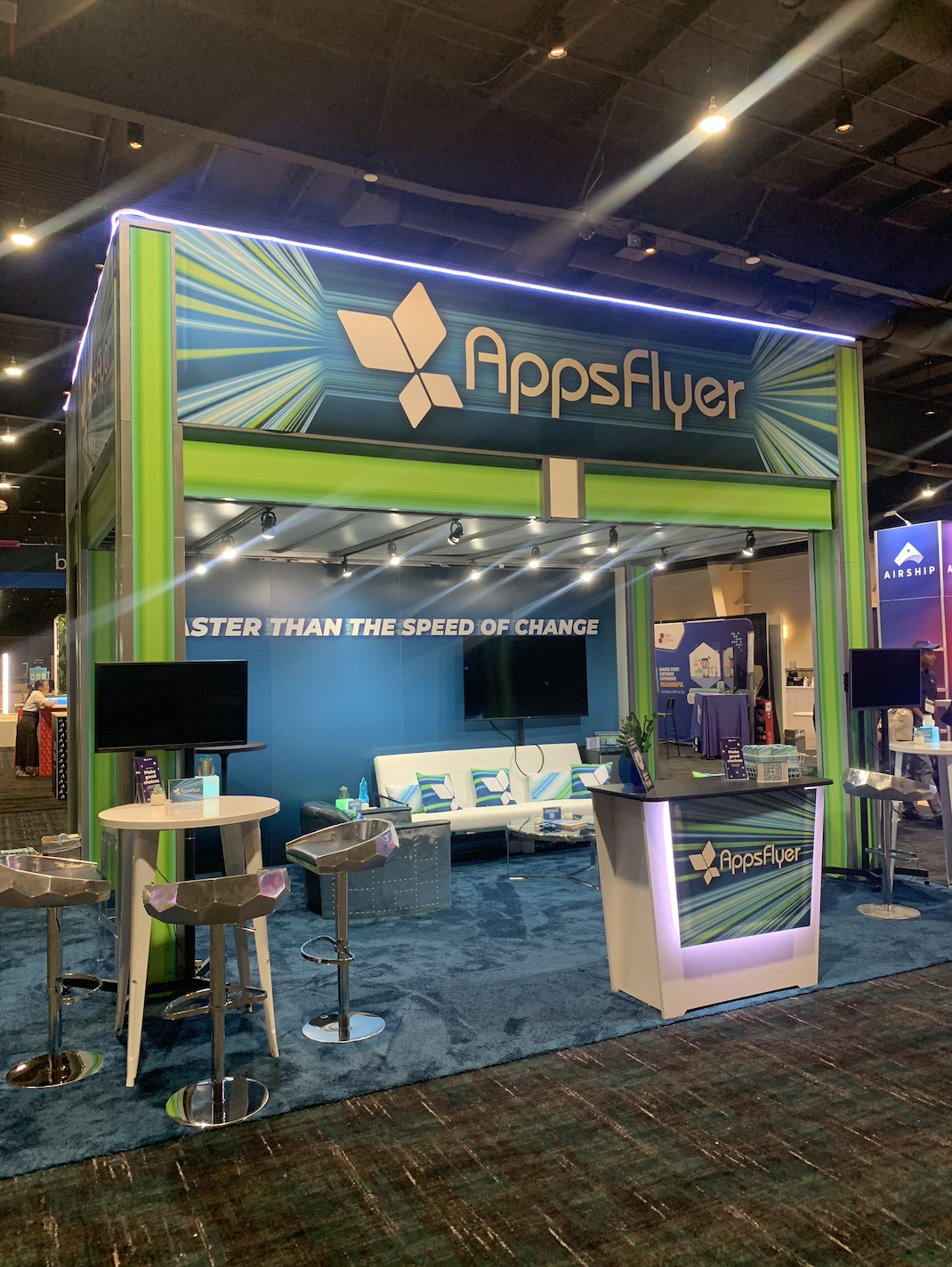 Vibrant colors on banners and booth walls are always great, of course—but we like to consider what would best grab attention at each specific show. Oftentimes a more clear, simple, clutter-free palette and design can create a modern and sophisticated look, allowing the showcased products or services to take center stage.
3. Sustainable materials
Exhibitors are increasingly incorporating eco-friendly materials, energy-efficient lighting, and sustainable practices to align with the growing focus on environmental consciousness. And we love it! Keep in mind portability, reuse, and longevity when you're designing a booth, and rent items whenever relevant. Options like digital signage can be a great, eco-friendly choice—and as an added bonus, can be more cost-effective as it can be updated in real time. And if you do have printed materials, we suggest using recycled paper and/or soy ink.
Also, be thoughtful about your swag. Think through whether it's something your booth visitors will really want (and will make space for in their suitcases!) or if it's likely to be left in their hotel rooms. Whatever you choose, be conscious about how the item can be tied back to your company: Make sure it has your website URL and other contact information so prospective customers can be in touch.
4. Clearly visible signage and messaging
You can spend ages crafting your messaging, but don't expect busy trade show attendees to stop and read a long explanation about what your company does. Draw people in with eye-catching moments like large-scale logos—something that will stick in potential customers' minds!—and simple, compelling taglines or calls to action. Once you get them to stop and look, then you offer the face-to-face conversations (and supplemental materials and messaging) that will turn them into customers.
5. A well-crafted experience
Leaning into interactive, experiential moments, like a hosted activity, an in-booth reception, or a give-back moment, is making a big impact these days. Just make sure the activity relates back to your end goal—a sponsored happy hour is great, but how can you help turn those attendees into customers? Reel them in with fun, interactive moments, and always be ready to succinctly share your messaging while you have their attention.
If budget allows, tech-forward moments like virtual-reality experiences, augmented-reality demonstrations, or gamification moments can also lead to a ton of engagement. Tech like this can be leveraged to offer personalized experiences to visitors, tailoring product demos or marketing materials based on individual preferences or needs. It can make things easier and faster for you and your attendees, too: AI-powered chatbots or interactive robots can provide real-time assistance and engage with visitors, for example, and even something as simple as QR codes and kiosks can allow for quick and easy lead capture.